ABOUT US

The Center for Women's Fitness was founded by Carolyne Anthony in 1994 as way to get fit, stay active and connect with other women as a stay at home mom. She focused on fitness, pilates, ballet and more in her small basement studio, all the while listening to the stories of the women she was serving. The stories of gym intimidation and the challenges of staying fit while pregnant inspired the creation of the Prenatal Pilates program that has grown into the international teacher training program we offer today.
All of The Center's programs are developed to address the physiological changes that happen throughout a woman's life. Our exercise programs are designed to support these changes instead of fighting them, and focus on movements that prepare women for childbirth, recovery, and the fitness challenges and opportunities as we age. As women, we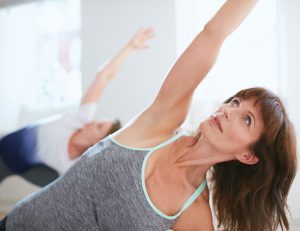 have many gifts. We cannot separate the physical body from our other subtle bodies.
Today, we offer programs and teacher trainings around the world that help women balance their physical, emotional and spiritual bodies through all stages of life. We believe you can be fit and strong at 20 years old, and fitter and stronger at 60 years old.
Learn more at our website, thecenterforwomensfitness.com
FOR MFN MEMBERS
MFN professional members receive 10% off.
ABOUT OUR COMPANY
Carolyne Sidhu Anthony has been in the Dance, Fitness and Pilates world for over 30 years. She trained as a professional dancer in London in the late 1970's and received her teaching diploma in 1982. She went on to dance professionally in Europe, Asia and Africa. Carolyne was introduced to Pilates in 1983, at the prompting of her Jazz instructor.
Among her fitness and Pilates certifications she has been certified by AFAA and AEA as a group exercise leader and is comprehensively trained as a Pilates Teacher through Polestar, PhysicalMind, and the PMA. She has been a faculty member for BASI and Balanced Body University, both USA based Pilates Organizations. She is an international presenter at conferences such as IHRSA, Pilates on Tour and Body, Mind, Spirit.
PRODUCTS & SERVICES
We have developed programs that are designed for women from the ground up. We teach from the female anatomy and physiology, the feminine psyche and include all the subtle bodies – the emotional, mental and spiritual that have an impact on the physical. We understand the different needs of the woman as she exercises through pregnancy, postnatal, menopause and the later years of her life and how these changes affect her fitness needs and goals.
[accordions]