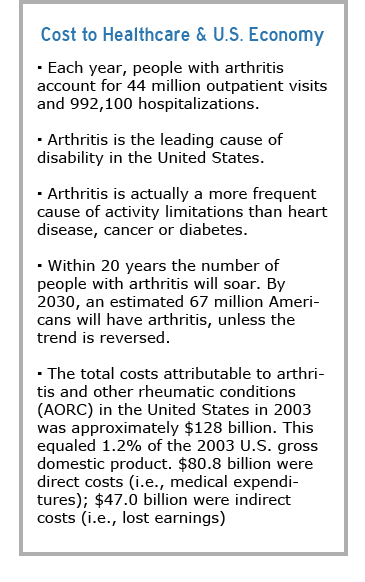 We are a national team of educated and devoted health and fitness professionals. We specialize in caring for, treating, and preventing chronic illness. We are dedicated to helping improve the quality of life of those suffering from arthritis and their caregivers. We are passionate about enhancing awareness, and sharing the best resources with those with arthritis.
Arthritis in the U.S.
50 million Americans are affected by Arthritis (one in every five adults).
300,000 children are affected under the age of 18.
Two-thirds of people with Arthritis are under the age of 65.
Medical and Health Organization Resources





The Arthritis Foundation was founded in 1948. It is the largest private, nonprofit contributor to arthritis research in the world, funding more than $450 million in research grants since 1948. The Foundation helps people take control of arthritis by providing public health education; pursuing public policy and legislation; and conducting evidence-based programs to improve the quality of life for those living with arthritis. www.arthritis.org
The Arthritis Foundation is an MFN partner. View their partner page.
Facts Source: http://www.arthritis.org/conditions-treatments/understanding-arthritis/
Cost Data Source: http://www.cdc.gov/arthritis/data_statistics.htm