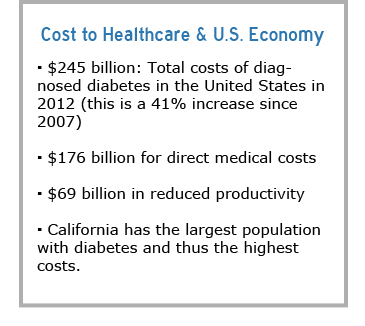 We are a national team of educated and devoted health and fitness professionals. We specialize in caring for, treating, and preventing chronic illness. We are dedicated to helping improve the quality of life of those suffering from Alzheimer's Disease and their caregivers. We are passionate about enhancing awareness, and sharing the best resources with those with Alzheimer's Disease.
Diabetes in the U.S.
25.8 million children and adults in the United States have diabetes (8.3% of the population has diabetes).
79 million people are prediabetic.
1.9 million new cases of diabetes are diagnosed in people aged 20 years and older in 2010.
Source: http://www.diabetes.org/diabetes-basics/statistics/?loc=db-slabnav
Medical & Health Organization Resources

The American Diabetes Association funds research to prevent, cure and manage diabetes; delivers services to hundreds of communities; provides objective and credible information; and gives voice to those denied their rights because of diabetes. Founded in 1940, our mission is to prevent and cure diabetes and to improve the lives of all people affected by diabetes. diabetes.org
The mission of Diabetes Motion is to provide practical guidance about blood glucose management to anyone who wants to be physically active with diabetes. Whether you're new to exercise or a sports enthusiast, diabetes can get in the way of being active. This site will guide you on what to do, how to do it and, most importantly, how to manage your diabetes safely and effectively for exercise. diabetesmotion.com
Diabetes Motion is an MFN partner. View their partner page.
Cost data source: http://www.diabetes.org/diabetes-basics/statistics/?loc=db-slabnav