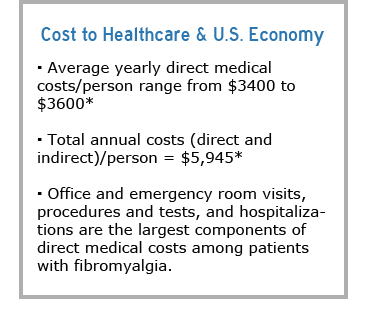 We are a national team of educated and devoted health and fitness professionals. We specialize in caring for, treating, and preventing chronic illness. We are dedicated to helping improve the quality of life of those suffering from Fibromyalgia and their caregivers. We are passionate about enhancing awareness, and sharing the best resources with those with Fibromyalgia.
Fibromyalgia in the U.S.
Affects an estimated 10 million Americans.
Most people with Fibromylagia are woman.
There is no know cure, treatment focuses on relieving symptoms and improving function.
Source: http://www.fmaware.org/
Medical & Health Organization Resources


Founded in 1997 in Orange, California, by Lynne Matallana and Karen Lee Richards, the National Fibromyalgia Association (NFA) is the largest nonprofit [501(c)3] organization working to support people with fibromyalgia and other chronic pain illnesses.
National Fibromyalgia Association
Cost Data Source: http://www.cdc.gov/arthritis/basics/fibromyalgia.htm