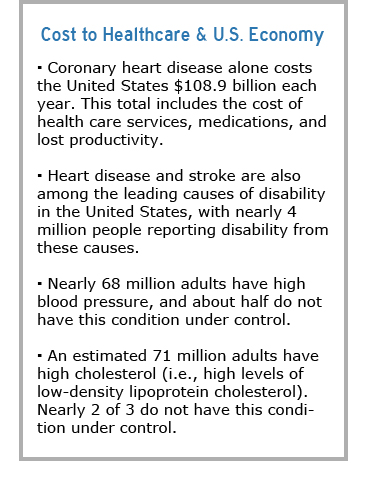 We are a national team of educated and devoted health and fitness professionals. We specialize in caring for, treating, and preventing chronic illness. We are dedicated to helping improve the quality of life of those suffering from heart disease and their caregivers. We are passionate about enhancing awareness, and sharing the best resources with those with heart disease.
Heart Disease in the U.S.
Every year about 715,000 Americans have a heart attack.
Heart disease is the leading cause of death for both men and woman.
Coronary heart disease is the most common type of heart disease.
Medical & Health Organization Resources

The Sudden Cardiac Arrest (SCA) Foundation works to prevent death and disability from sudden cardiac arrest. Our mission is to "raise awareness and support programs that give 'ordinary' people the power to save a life." We work to raise awareness about prevention and treatment of sudden cardiac arrest, including post-resuscitation care. www.sca-aware.org
The Sudden Cardiac Arrest Foundation is an MFN partner. View their partner page.