ABOUT OUR ORGANIZATION
The Anti-Cancer Club™ is about TAKING CHARGE of your health, even in the face of cancer, providing social connection and information on anti-cancer nutrition and mind/body modalities.
Did you know…that nutrition, exercise, stress management and social connection impact the up and down regulation of over 500 genetic expressions? That means that your daily choices matter! Award winning chefs and leaders in anticancer living offer weekly, actionable ideas in each of these areas.
Our Sunday #CancerBlab (https://anticancerclub.com) provides a chance to chat with movers and shakers in All Things Cancer. Read more here: bit.ly/1RxiDr5
And #FridaysAtFive we TweetChat. Come and share your #anticancer plans for the weekend and join a global group of people creating a community for health.
Learn more at our website, anticancerclub.com
ABOUT OUR FOUNDER

The Anti-Cancer Club™ grew out of founder Pat Wetzel's personal experience with cancer.
From Pat Wetzel: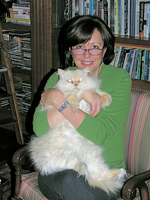 In June 2009, I was diagnosed with nodal marginal zone lymphoma (MZL). MZL is a rare non-Hodgkins lymphoma.
After an array of treatments, I found myself wondering "what next?" There was no one to turn to; no place to go. My cancer was beaten back, but not beaten. I was cast adrift until my next appointment with my oncologist.
Waiting passively was not in my makeup and I had serious questions. What about nutrition during and after chemo? Was there an alternative to steroids for the joint swelling and extreme pain I experienced from one of my medications? How can I manage this fatigue and get my strength and stamina back?
I needed information because I had to DO SOMETHING. Cancer was turning my life upside down, and I needed answers.
So learning about cancer and health became my new focus. At times it was start and stop. I tried going vegan, but life without cheese, I decided, wasn't worth living. I learned about glycemic indices, the nutritional content of various foods and about the sources of my food. I consciously filled my circles with caring people who had "good energy". I started meditating for stress reduction.
And now, 7 years later, my life is dramatically different.
My mission with the Anti-Cancer Club is to give you hope and inspiration. You can take charge of your care, treatment and recovery.
One's health is a private matter, but one's struggle with cancer can't be done in isolation. Tap into our community. In sharing, we learn, we evolve and we pay it forward to help others.