ABOUT OUR ORGANIZATION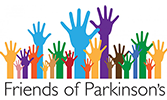 Friends of Parkinson's is a non-profit organization that connects and creates, local, nationwide, and international initiatives that support the neurological community and communities related to Parkinson's Disease.
Friends of Parkinson's supports healing, care, and lifestyle management that applies to various forms of mental illnesses and the families, friends, and communities that support them. Professionally facilitated support groups are offered at no cost to individuals living with Parkinson's and their caregivers to share their experiences in a warm, friendly environment.
Through fundraising activities, awareness campaigns, and other related endeavors, Friends of Parkinson's looks to secure and build resources and hope in the neurological community.
Learn more and access resources at friendsofparkinsons.org
SUPPORT OUR ORGANIZATION
Your donations support forum/group Discussions, annual Medical Symposium, special events for Parkinson Awareness Month, exercise and support, newsletters, Parkinson's Enrichment Program, and support groups.
Donations are accepted via PayPal. Click here to donate.