ABOUT OUR ORGANIZATION

World Parkinson's Program is a Canadian based non-profit, global organization with the mission of improving lives of all those affected with Parkinson's disease directly or indirectly. Our objectives include promoting EDUCATION, providing SUPPORTIVE SERVICES and ADVOCACY for Parkinson's patients and caregivers around the world. We aim to reaching every individual across the world who has been affected with Parkinson's disease to educate them in their own language, provide supportive services as well as to advocate for them at the local and global level.
Among others, our current programs include:
Providing free medication: There are hundreds of thousands of Parkinson's patients around the world who are not able to afford their medications. Our aim is "No Parkinson's patient anywhere in the world should face a day of being unable to afford their medications.". We are currently running "SPONSOR TREATMENT OF ONE PARKINSON'S PATIENT" CAMPAIGN. We provide medications free of charge to those Parkinson's patients who are not able to afford them.
Providing free brochures: There are millions of Parkinson's patients globally who are suffering in silence due to lack of knowledge and resources available to them. Word Parkinson's Program is the only organization in the world that is focused on improving the lives of Parkinson's patients by empowering them with the knowledge they need in their own language, so they can fight Parkinson's more effectively. World Parkinson's Program in its endeavor to spread Parkinson's knowledge has developed various brochures in the most common global languages.
Providing free education: We conduct educational seminars about Parkinson's and the unmet needs of Parkinson's patients globally. We also provide free additional education material including handbooks and CDs in many languages to cater various communities in different parts of the world.
Providing free walkers, canes, wheelchairs, etc: We aim to provide walkers, canes, wheelchairs to Parkinson's patients with balance problems who are at risk of falling and cannot afford these assistive devices. Our Fall Prevention Campaign aims to prevent Parkinson's sufferers from falling by educating them, and providing them with the necessary devices.
Learn more about who we are and what we do.
ABOUT PARKINSON'S DISEASE
Parkinson's disease, a disabling neurological condition was first described by James Parkinson, a British physician in 1817. It is a daily struggle experienced by more than 6 million individuals around the world. About 100,000 Canadians and more than 1 million American people are affected with this disabling condition. Although most people affected are over the age of 55 years, it does occur in young individuals as well.
Parkinson's is a neurodegenerative disease and involves the loss of brain cells capable of producing dopamine. Dopamine is a neurotransmitter found in brain, the deficiency of which results in main symptoms of Parkinson's disease including slowness of the movements of our body, which is one of the cardinal symptoms of Parkinson's. Although Parkinson's may be a complex disease with many implications on one's life, it can be managed well with medications, proper advice and support. There is no cure for Parkinson's yet but one can live with the disease for years. Learn more in our resource center.
SUPPORT OUR ORGANIZATION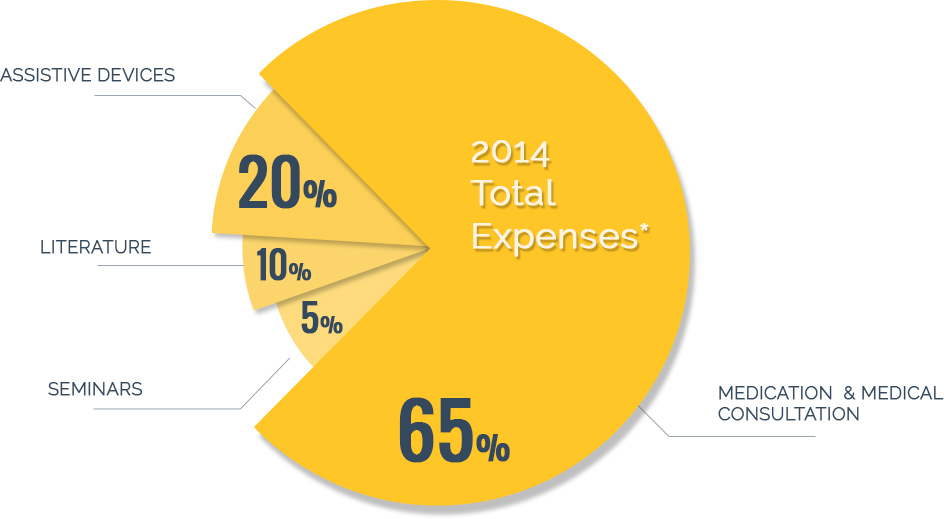 100% of your donations go to improving lives of Parkinson's Patients Globally
You may make a meaningful impact in the life of someone who may be struggling with Parkinson's by sponsoring the treatment of at least one patient.
Learn more about donating to the World Parkinson's Program.