ABOUT US


The mission of the Association of Fitness Studios is to provide studio owners and entrepreneurial fitness professionals the benefits, resources, and tools necessary to enhance management efficiency, marketability, and profitability while protecting the interests of our members and promoting the benefits of living a healthy lifestyle through education, information, and technology.
Learn more at our website, https://member.afsfitness.com/
FOR MFN MEMBERS
MFN professional members receive $50 off the AFS Premier membership.
ABOUT OUR COMPANY

Toward the end of 2012, fitness industry veterans Josh Leve, and his father Chuck, recognized the rapid proliferation of freestanding fitness studios as a significant trend. With Josh's health club and studio management background, and Chuck's fitness trade association experience, they realized these business owners lacked one cohesive organization to support their efforts.
The reality was these businesses (ranging from 500 to 10,000 square feet) – opened by great fitness professionals – could benefit immensely from the sharing of ideas, business best practices, industry leading market research, tools and additional resources – previously only available for larger big box facilities.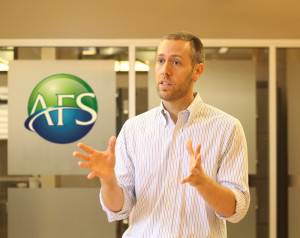 Josh and Chuck also recognized that thousands of fitness professionals were dreaming the dream of owning their own studio – but didn't know where to turn for credible, unbiased, helpful information.  Training was their expertise, but business ownership was often foreign territory.
The Association of Fitness Studios (AFS) builds on the passion, compassion and courage its members have already shown. Most of the business challenges of studio ownership are universal, and AFS delivers the tools necessary to enhance management efficiency, marketability, and profitability.
Further, AFS is the direct link between studio owners, suppliers, fitness professionals, certifying organizations, and consumers – connecting all segments of this vibrant industry.
JOIN OUR ASSOCIATION
Strengthen Your Credibility
92% of consumers prefer a fitness studio that is a member of a professional trade association and abides by their code of conduct.
Primary membership categories include Basic Membership & Premier Membership.
Basic Members gain access to the exclusive AFS community. A foundation of support and benefits to grow personally and professionally. Members at the basic level can be fitness studios, gyms, or entrepreneurial fitness professionals and any discipline: personal training, Pilates, yoga, cycling, MMA etc. Member studios range in size from 500 to 10,000 square feet.
Premier Members fast-track business growth and receive maximum value. Members at the Premier level showcase their AFS committment to their community and the fitness industry while accessing everything AFS has to offer. Premier members can leverage the AFS Proud Member logo, receive expert advice, how-to manuals and a variety of other special tools and resources not available at the basic membership level.
Vendors are those providing products and services that serve the needs of studio owners.  By gathering the "leverage" of a national association AFS has been able to secure advantageous pricing and programs on behalf of our members.  Vendors may contact us to learn more about partnering with AFS.
Learn more about membership at https://member.afsfitness.com/content/membership

---
Are you a member of this association?
We like to ensure that our partners provide you with the same experiences you would come to expect from MFN. Contact us and tell us about your experience.​​