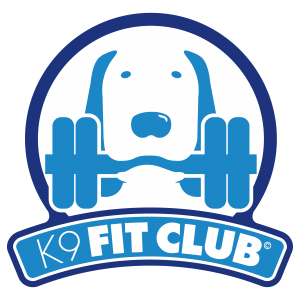 ABOUT US
K9 Fit Club® is a lifestyle company dedicated to creating good health, fitness and wellness of dogs and their people. K9 Fit Club's proprietary programs offer the time-saving aspect of working out with your dog while in a fun, safe and controlled environment.
K9 Fit Club addresses the growing epidemic of increasing obesity and diminishing health at both ends of the leash by providing your clients a safe, structured and social environment in which to work out together! K9 Fit Club is not only the first, we are also the premiere human/canine fitness company in the nation.
K9 Fit Club was founded by Tricia Montgomery. Tricia battled obesity and passed her bad habits and lack of exercise on to her basset hound, Louie. Both were overweight, run down and in dire need of change. Thanks to her very caring and very frank veterinarian, Tricia was told both she and Louie were grossly overweight and it was detrimental to Louie's life. This was Tricia's "a-ha" call to action and she and Louie set out on a journey to lose weight.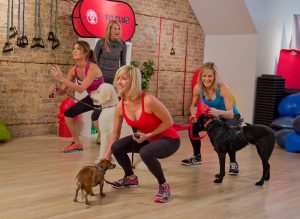 After Tricia lost 130 pounds, and Louie lost 4 pounds by working out together, their lives were changed forever and her desire to share this amazing transformation with other overweight dog owners and pets drove her to create K9 Fit Club. Knowing this was a unique workout, she enlisted top veterinarians, dog behaviorists, dog trainers, fitness trainers and medical doctors. Together they created a successful health, wellness and fitness program designed for both owners and their pets to enjoy while working out together.
Visit our website, k9fitclub.com
FOR MFN MEMBERS
MFN professional members receive:
10% off K9 Fit Club Master Training & Licensing
10% off K9 Fit Club Continuing Education Certificate, Human and Canine Fitness
PRODUCTS & SERVICES
[accordions active='0′]
K9 Fit Club, the pioneer and leader in human/canine fitness is revolutionizing fitness by combining both ends of the leash.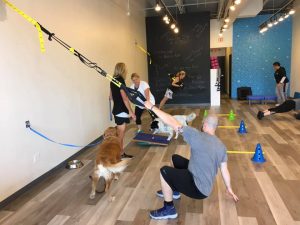 K9 Fit Club's Master Training & Licensing will teach you everything you need to implement a successful K9 Fit Club program anywhere – whether you teach at a park, gym, studio, health club, or university.
Fusing the worlds of cardio, plyometric, strength training, human and canine fitness. K9 Fit Club delivers a fun, effective and results-driven program that will have your clients begging for more.
As a K9 Fit Club Master Trainer & Licensee, you'll learn the correct way to teach that is fun and totally unique. You'll also learn how to structure an effective workout that meets all your students' needs so that your students, both two-legged and four-legged will feel motivated, and have the ability to progress.
The K9 Fit Club Master Training & Licensing is a 3-Day workshop. You'll receive everything you need to begin teaching classes the very next day.
Master Training & Licensing Includes:
Access to online Pre-Master Training Certification
Use of K9 Fit Club® Logo, Registered Trademarks and Marketing Assets
5 Proprietary K9 Fit Club® Exercise Programs

NamaSitStay, Begging for Beginner, Bow Wow Bootcamp, Sit, Stay & Get Fit, Just the Dog

Full Three Day K9 Fit Club® Master Course
Exercise Assessments/Veterinary Forms
K9 Fit Club Team Support
Marketing, Advertising & Event Templates
Inclusion in K9 Fit Club website
K9 Fit Club® Business Support, Complete Instructor and Manual with exercise examples, class formats and templates
K9 Fit Club® Partner discounts of up to 40% off on all equipment
Continuing Education Units/Credits from NASM & IAABC, CCPDT, ACE, RACE
Hands on how to design your own K9 Fit Club classes
The science of effective human and canine fitness exercises
Setting Up Teams for Success
Above the Core – The Business of Success
Approved partner of NASM
Recognized partner of PeerFit and Aetna, Cigna & United Healthcare
Recognized partner of Healthways/Silver Sneakers
Fee: $3,500
This continuing education course blends the basics from human health and fitness with the basic skills required for dog training and obedience combining them into one unique program. The K9 Fit Club Continuing Education Certificate in Human and Canine Fitness is designed for students who have a basic understanding of anatomy of both humans and canines, physiology of exercise, kinesiology, health screening, exercise prescription, and exercise safety. The content will be beneficial to any group fitness instructor, dog trainer, personal fitness trainer, or corporate wellness/population health specialist at any level of training or experience. This course offered through K9 Fit Club can help you get started in a new and growing area of the fitness industry. (Approved partner of NASM, ACE – 1.5 CEUs)
K9 Fit Club Continuing Education Certificate includes:
Understanding wellness & the human animal bond
Exercise physiology human
Exercise physiology canine
Exercise assessment human
Exercise assessment canine
Veterinary protocols
Obedience 101
Program design
Changing People's Lives One Dog at a Time®
Fee: $499
[/accordions]