ABOUT US

Ladder is a personalized health and wellness coaching platform. Ladder makes personal training accessible to everyone.
Visit the Ladder website, joinladder.com
How it Works
We take into account the wants and needs of our clients to make the best match possible with a real, live, certified health and wellness professional (Ladder Coaches). A matchmaking structure that unlike traditional personal training, isn't reliant on availability, ensuring matches based on fit as opposed to logistics.
Our coaches work with their clients to assign weekly promises, these building blocks to a healthier lifestyle are designed to drive keystone habits and are completely customized for each client.
Each month our coaches build a completely customized fitness plan for their clients, these plans take into account their clients ability and access to equipment and are personalized to provide the perfect fit!
In addition to the custom promise and plan, our coaches engage with their clients to drive encouragement, accountability and ultimately to build a relationship that makes the health and wellness journey achievable!
Become a Ladder Coach
If you're a certified personal trainer, you're eligible to apply to be a Ladder Coach.
Personal training is hard for most people to access. We also know that for most people, traditional personal training simply doesn't make sense. It's too expensive. It's too time consuming. It's hard to find the right trainer… we set out to change that with Ladder. A platform that connects people with Health and Wellness Professionals, via digital coaching. The first step in our process of Fixing Fitness.
There is nothing that technology can build that will be more effective than a passionate, empathetic and engaged coach. We exist to make those human assets accessible to all people, in a seamless, effective and valuable way.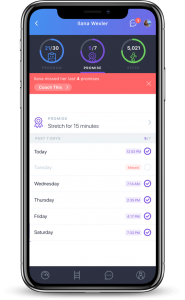 Why Be a Ladder Coach?
Ladder provides you with digital clients using their app.
Better manage and engage your existing clients, to help them keep them longer. Ladder centralizes everything you need to be an amazing health and wellness professional. Programming, engagement, client tracking and acquisition, all in the palm of palm of your hand.
Ladder allows you to engage and manage your clients all the time, not just when you're together.
Re-acquire former clients. Ladder works with their coaches to drive nurture campaigns to all of their former clients, offering a digital relationship that provides monetization and creates engagement which leads to a higher likelihood of "re-acquiring" as "in-person" clients.
Coaches earn $25 per month per digital client. (Coaches spend an average of 45 minutes of time per month per client.)
Coaches can create dynamic offers, priced at any amount over $50. Ladder keeps $25.
FOR MFN MEMBERS
MFN professional members who are certified personal trainers can apply to be a Ladder Coach.