ABOUT US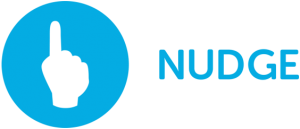 Nudge Coach is a client management platform for wellness and fitness businesses that want to promote healthy lifestyle change in-between sessions and remotely.
Delight more clients with the mobile app that puts you and your coaches in every client's pocket.
Give your clients access to a highly polished health tracking app that's been featured in Digital Trends, TechCrunch and LifeHacker
Give your team time-saving management tools that help them provide proactive coaching to every client in-between sessions
Feature your branding in the Nudge App or launch your own, fully white-labeled app in the App Store and Google Play
Learn more at our website, nudgecoach.com
NUDGE ACADEMY
Learn how digital health coaching enables you to deliver more personalized coaching for better results and a more profitable business. Currently, Nudge Academy offers two courses:
Dr. Steve's Guide To Digital Coaching: Learn how to deliver highly effective digital health coaching, including the key tools, proven concepts, and best practices that are driving program success for clients and partners of Nudge all over the world. FREE
How To Create A Profitable Remote Coaching Business: Develop a practical, effective go-to-market strategy for launching a remote health coaching program that's set up for profitability and scale. $299
Visit Nudge Academy to see courses and enroll, academy.nudgecoach.com
FOR MFN MEMBERS
MFN professional members receive 50% off the Nudge Coach Pro Plan.
MFN professional members also receive a 35% off on the Nudge Academy Course, How To Create A Profitable Remote Coaching Business.