ABOUT US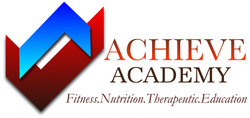 Achieve Academy is a fitness, nutrition and therapeutic education company that has been created by two of the top fitness and wellness professionals in the industry.
Achieve Academy's mission is to Empower Fitness, Nutrition & Therapeutic Professionals & Business Owners by providing industry leading education along with client and business growth systems delivering success both professionally & financially.
Visit our website, achieveacademypro.com
FOR MFN MEMBERS
MFN professional members receive 20% off any Achieve Academy education course or product.
ABOUT OUR COMPANY
Achieve Academy's goal is to empower fitness, nutrition and wellness professionals and provide them with the tools to become financially independent and provide a top notch product to the consumer. In 2014 Achieve Academy manages and operates 10 plus – education programs that have been under development for many years and have been proven to have high earning potential and success rates.
Achieve Academy is the academy that helps make fitness, nutrition and therapeutic professionals successful. We provide the top certifications, CEU programs and education in our industry. We provide you the power to market and acquire business to earn the income you desire. Something no other education providers offer making us one of the best options in our industry!
Achieve Academy does this by providing you on going coaching, workshops, national conferences, lead generating systems, an incredible exclusive back-office HUB and much more that is available exclusively to the Achieve Academy certified professional.
PRODUCTS & SERVICES
Take your education to the next level! Achieve Academy offers online and live certifications in fitness, nutrition, therapy and health.
Achieve Academy has some of the top certifications in the world and we invite you to get certified within a specific niche that interests you. We strongly bridge the gap between all industries. We provide niche specific education and we then have systems to help you develop your brand to increase your revenue and client/customer base. You can even become a master educator and CEC provider for the programs you are passionate about!
Achieve Academy courses are for anyone in fitness and health wanting to add and create an incredible portfolio to advance your career.
Visit our website to view a complete list of online programs and live trainings, achieveacademypro.com
---
Have you purchased a product/service or taken a course from this organization?
We like to ensure that our partners provide you with the same experiences you would come to expect from MFN. Contact us and tell us about your experience.​​