ABOUT US

The mission of the Alzheimer's Research and Prevention Foundation (ARPF) is to prevent Alzheimer's disease by funding research studies and providing educational outreach and memory screenings. For 20 years, the ARPF has been on the leading edge by researching, advocating, and educating for a holistic or integrative approach to preventing memory loss and Alzheimer's.
We do this by:
Researching innovative and breakthrough modalities in the holistic or integrative medical approach for the prevention of this disease.
Educating healthcare professionals, patients, and their families as well as the public on the known aspects of Alzheimer's disease, with particular emphasis on the prevention and treatment of early stage memory loss. We believe in your fundamental right to be informed about all the medically proven modalities that are available to you to maximize your brain function now and hopefully reduce your risk of dementia later. We also provide Free Memory Screenings to increase awareness and testing.
Facilitating communication among health care professionals to share the results of our research, and between Alzheimer's organizations and the public to increase awareness of the disease and inform them about the available resources in our greater communities.
Our research has been published in the prestigious Journal of Alzheimer's Disease, as well as other significant medical journals, such as The International Journal of Geriatric Psychiatry, Psychiatry Research, Nuclear Medicine Communications and Consciousness and Cognition.
Learn more at alzheimersprevention.org
FOR MFN MEMBERS
MFN members receive $50 off ARPF's Brain Longevity® Therapy Training live events
PRODUCTS & SERVICES
Brain Longevity® Therapy Training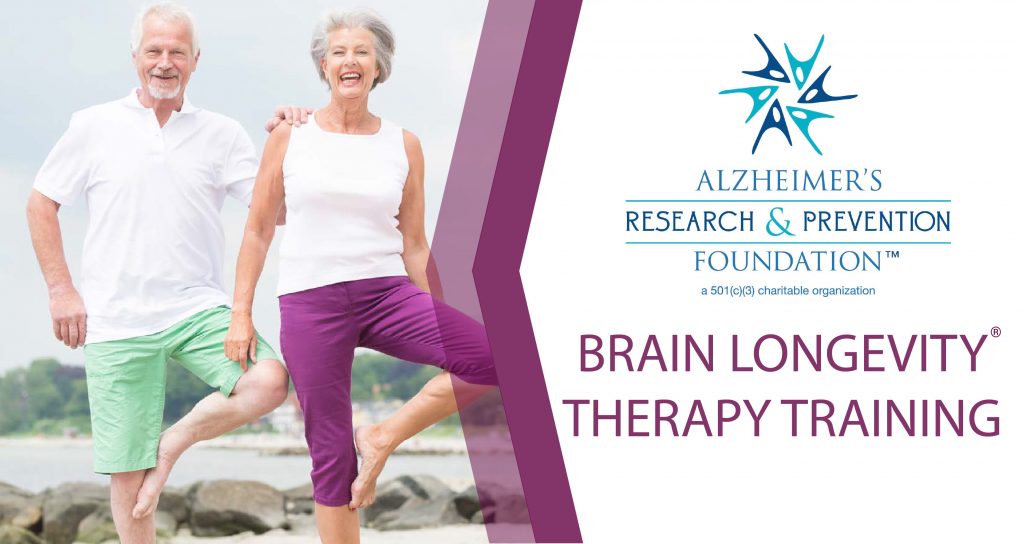 When Dharma Singh Khalsa, M.D., Founding President of the Alzheimer's Research and Prevention Foundation (ARPF), first created the Brain Longevity® Therapy Training program in the early 1990's, it was a revolutionary idea.
Since then, we at ARPF have seen first-hand how the 4 Pillars of Alzheimer's Prevention® have helped people of all ages and backgrounds improve their brain function. We now want to share the research and clinical results with you, so that you can bring these tools to your community and become part of the movement to help prevent Alzheimer's disease and other forms of memory loss and cognitive disability.
Benefits of this training:
In-depth examination of the science behind the 4 Pillars of Alzheimer's Prevention (Diet and Supplements; Stress Management; Exercise; Spiritual Fitness), including ARPF-sponsored studies on integrative medicine and healing modalities like yoga and meditation.
Presentation of new standards and methods to assess and understand Alzheimer's and dementia, brain health and longevity
For yoga teachers/therapists:  Specialization in yoga and meditation for middle aged and older adults
Meeting new industry experts and fellow professionals
Module system of training, so that course topics and materials can later be used individually or in entirety – offering an amazing breadth of options for consulting and teaching
Certification from the leader in "the integrative medicine approach to preventing Alzheimer's disease and maximizing your Brain Longevity."
Increase your knowledge and credibility around neuroscience and yoga and the impact meditation has on the brain.
Ways to help others and yourself – at home or on the job
Attend in person or via livestream. Learn more, alzheimersprevention.org/training