ABOUT US

Exercise Connection provides parents, educators & physicians products and tools to improve the health & fitness to children & families living with autism.
Families impacted with autism, down syndrome and other physical and cognitive disabilities are continuously trying to improve their child's life through diet, cognitive and other behavioral and motor therapies. While all of these strategies are vital during early childhood, parents are often too overwhelmed and don't consider the future needs of their child.
For the last 10 years, David S. Geslak has been developing exercise programs to meet the very specific challenges of the autism and special needs community. Through the Exercise Connection's (EC) use of structure, visual supports and workshops the EC has created a program that is filling the gap.
For more information, visit exerciseconnection.com.
PRODUCTS & SERVICES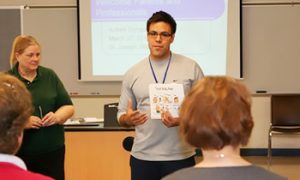 Professional Development & School Programs
The EC Program is designed to challenge your students by utilizing the strengths of all staff involved. Special education teachers, therapists and paraprofessionals will participate in team building activities as they learn the EC Visual Exercise Protocol.
Following the 6-hour Workshop your staff will understand the EC Five Components of Physical Fitness, be able to implement exercises in a gym or classroom, and successfully design workouts using the Visual Exercise System. Each staff will be tested and receive a Certificate of Completion.
Learn more at our website, exerciseconnection.com/programs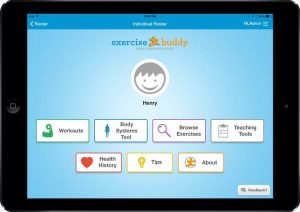 Exercise Buddy
ExerciseBuddy teaches individuals with autism to exercise. Research has proven that exercise plays an important role in managing the behavioral symptoms associated with autism. Exercise helps increase focus, build self-esteem, and improve relationships.
ExerciseBuddy uses established teaching strategies, proprietary exercise visuals, and peer-led videos to teach and inspire without challenging parents and teachers.
Exercise Buddy is available for download in the app store. Learn more at exercisebuddy.com.