ABOUT US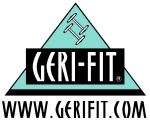 Geri-Fit® is an evidence-based group strength training exercise program for older adults of all senior ages and fitness levels. Geri-Fit is recognized by the National Council on Aging as a Title IIID health promotion program and federal funding is available to qualified facilities that want to become licensed sites. The Geri-Fit exercise program also incorporates stretching, stability and balance training as well as gait exercises.  The program is especially beneficial for those over the age of 75, however, any senior age and fitness level can participate.
The Geri-Fit program is held at senior living communities, senior centers, physical therapy clinics, hospitals, wellness centers, dance studios, community centers, yoga and pilates studios, recreation centers, health clubs and gyms, colleges and universities, and other locations that offer group exercise classes for older adults.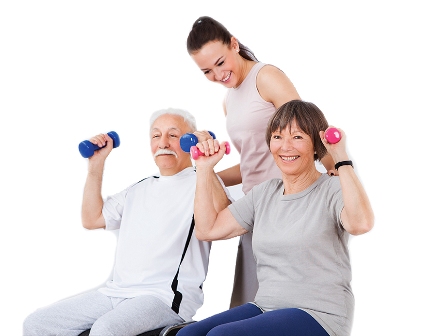 The Geri-Fit® exercise program requires just a set of 2-pound dumbbells (each), a non-skid chair to do the exercises in, a stretch band for the stretches used before and after the workout, and water to drink during the workout. There's no dancing or choreography to learn and there's absolutely no floorwork!  Both men and women can enroll.
The workout is considered a "progressive resistance exercise program" meaning that once the participants have built up enough strength using a set of 2-pound dumbbells, they can graduate to using heavier dumbbells weights in order to challenge themselves to become even stronger. A typical Geri-Fitter will work up to using 4-pound dumbbells within a year's time.
Visit our website for more information.
FOR MFN MEMBERS
MFN professional members receive $50 off instructor training fees and/or Geri-Fit® program license fees.

ABOUT OUR COMPANY
Geri-Fit's Advisory team and its past members and clients were key in developing the Geri-Fit program and having it approved as a Title III-D evidence-based disease prevention program by the National Council on Aging (NCOA) and the Administration on Aging (AoA) in 2013.
In developing our strength training fitness program and exercise dvd's, we sought the help of a geriatrician, a team of physical therapists, exercise physiologists, a gerokinesiologist, a physiotherapist, nurses and other healthcare professionals. Geri-Fit was part of early studies conducted by the Cleveland Clinic Foundation and MetroHealth General Hospital in Cleveland, Ohio during the mid-1990's.  Geri-Fit was also part of a study conducted by the University of Texas Arlington in 2011. Learn more about our Advisory Board…
PRODUCTS & SERVICES
Geri-Fit® Accredited Online Training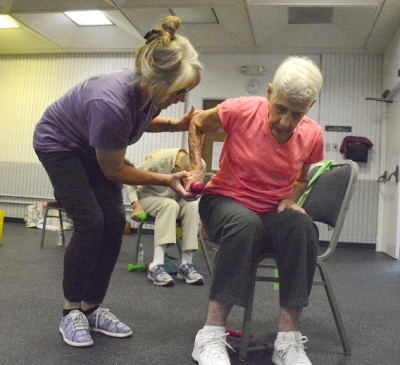 When you can't afford to take time off of work or attend a live workshop, online training and certification is a way for you to obtain new knowledge and skills to add to your toolbox. This training will provide you with working knowledge of teaching safe and effective strength training exercises, and you will learn when to institute exercise modifications and substitutions when teaching a group class or working privately with older adults. There are no aerobics, choreography, dancing or floorwork used as part of the training. Most of the exercises and stretches you'll be learning will be performed seated in chairs.
Ideal candidates should already be certified by a nationally-recognized fitness organization such as NSCA, ACE, AFFA, ACSM, W.I.T.S., AFPA, IFPA, NASM, NESTA, or NFPT and have a minimum of 3 years experience either teaching group exercise classes or personal fitness training or a combination of both. We do make exceptions from time-to-time based on the experience the individual has acquired in working with older adults over the years. We also accept candidates with degrees in exercise physiology, kinesiology, gerokinesiology, physical therapy, occupational therapy, nursing, healthcare administration, and other medical professions.
Study time and exercise practice varies from 60-80 hours and entails watching a few strength training dvds, interacting through our state-of-the-art online training education center, reading the instructor manual, and practicing the strength training exercises and stretches. This training will help give you the knowledge and confidence that you'll need in order to successfully lead a senior exercise class or work privately one-on-one with older adults. Learn more and purchase… 
---
Have you taken a course from this organization? We like to ensure that our partners provide you with the same experiences you would come to expect from MFN. Contact us and tell us about your experience.​​