ABOUT US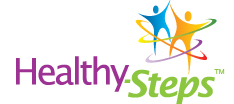 Healthy-Steps, Moving You to Better Health with the Lebed Method, is a therapeutic exercise and movement program, done to great music, designed to help you thrive. Offering wellness programs for everyone from young adults to seniors, regardless of health, age or ability level, the Healthy-Steps program improves overall wellness, range-of-motion, balance, strength and endurance, as well as emotional well-being and self-image. Offered worldwide, Healthy-Steps/The Lebed Method has been proven to help enhance the well-being of those with Cancer, those with lymphedema, or other chronic diseases or medical conditions. A specialized program for children, "Creative Rhythms", is also available.
Healthy Steps also offers training for energetic, motivated, caring individuals and fitness instructors who want to build a future for themselves while helping others. Learn more at our website.
FOR MFN MEMBERS

MFN professional members receive a $50 discount on workshops and online training course
ABOUT OUR COMPANY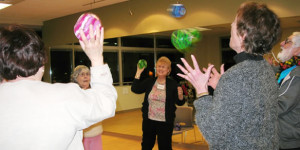 Two physicians and a dance movement specialist created this program to help improve the physical and emotional well-being of adults and children. Our goal is to elevate the quality of life through therapeutic exercise and movement; healing body, mind, and spirit. Designed to maximize participation and activity, regardless of physical ability, Healthy-Steps is fun and easy to do, and no special abilities are required.
Healthy-Steps is for Breast Cancer survivors, or other forms of Cancer, Lymphedema, Arthritis, Chronic Fatigue Syndrome, Fibromyalgia, Multiple Sclerosis, Parkinson's, Frozen Shoulder, and other chronic or debilitating illnesses
Over the years, the Healthy-Steps/ Lebed Method program has had several Medical studies published on its success in several journals, also newspapers including the Miami Herald, Denver Post, Seattle Times, and New York Times, national publications including People, CURE, Oxygen, MAMM and Health magazine, and featured on broadcast television programs including: The Today Show, Lifetime Live and BBC America.TLM
PRODUCTS & SERVICES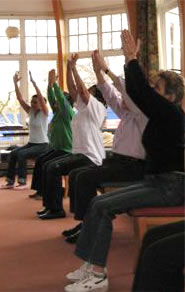 Healthy-Steps Certification provides you with the opportunity to improve the lives of others while improving your own life and financial well-being. This program is a perfect addition for medical centers and hospitals, exercise and fitness centers, dance and yoga centers, Assisted Living Centers, Religious Centers, Senior Centers and so much more.
Instructor certification includes technical training, as well as access to marketing resources and how-to guides, promotional materials, and licensed merchandise. As a Healthy-Steps instructor, you'll also have access to a world-wide network of Healthy-Steps instructors, providing each other with guidance, expertise, and encouragement.
Live certification is available in 2 or 3 day format. Online certification is available in 2 month time frame.
More details and calendar available at gohealthysteps.com/Training_Programs
(We also offer a 1-day land training for Lymphedema Specialists).
Healthy-Steps offers Continuing Education Units to licensed professionals.  CEU's are available for our training workshops through AOTA, NCCAP, and ACSM.
MEDICAL FITNESS COURSES
Healthy-Steps offers the following continuing education related to aging, senior fitness, chronic disease, medical condition, and pre or postnatal care:
Lymphedema Therapist Training (CLL)
The 2-3 Day Healthy-Steps Certification Training (CLM)
Healthy-Steps online certification workshop
---
Have you purchased a product/service or taken a course from this organization?
We like to ensure that our partners provide you with the same experiences you would come to expect from MFN. Contact us and tell us about your experience. ​