ABOUT US

The National Association for Fitness Certification (NAFC) mission is educating fitness professional to become a critical thinking, movement specialist. The NAFC has provided scientifically-based, standards-focused education since 1992 and is the most rapidly expanding Fitness Certification Organization in the United States.
The NAFC is different from the other certification organizations in that our students are not only seeking careers, but rather want to introduce a lifestyle of health into theirs' and others' everyday lives. The NAFC works with professional trainers, educators and institutions whose goals are health, fitness and an ongoing lifestyle for longevity in health. NAFC professionals have the combined advantage of having acquired a superb education, and the skill sets to make a great income doing what they are most passionate about!
Learn more at our website, nafctrainer.com.
FOR MFN MEMBERS
MFN professional members receive a 20% discount on NAFC certifications and bundle certifications, in addition to CEC single courses. Discount does not apply to courses by Fitness Learning Systems or Academy of Health and Fitness.
ABOUT OUR COMPANY
The NAFC was established in 1992 to provide scientifically-based, standards-focused education and training for Group Fitness Instructors, Personal Trainers, and Wellness Consultants. The NAFC's combination of demanding standards, practical application of scientific principles, and affordable program pricing have defined it as the most rapidly-expanding certifying organization in the industry today.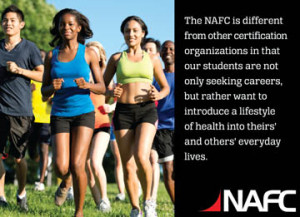 The NAFC was established by a forward-thinking group of fitness professionals, representing expertise in fields including Exercise Physiology, Adaptive Physical Education, Medicine and Nursing, and Professional Coaching. Their desire was to enhance current fitness certification standards by providing access to convenient and comprehensive – yet practical and affordable – education and skills.
To this end, the NAFC offers a hands-on practical experience along with a thorough theoretical program, covering the scientific bases of training (anatomy, biomechanics, physiology); motivation (behavior modification techniques, fitness testing); and diet and nutrition (weight management, the energy-balance equation, body composition). Group Fitness Instructors also receive instruction in working with music and leading effective group exercise sessions.
While many trainers and instructors are "certified," often they are not required to demonstrate practical application of the knowledge they received. NAFC certifications surpass the norm, in requiring that all NAFC students pass a practical examination to demonstrate the ability to apply their education not just on paper, but in practice as well.
PRODUCTS & SERVICES
PRIMARY CERTIFICATIONS

CONTINUING EDUCATION

NAFC programs offer you specialized education in the fields of weight training, fitness assessment, lifestyle consultation, group instruction, and nutrition analysis. Whether you're an NAFC-certified trainer, need Continued Education Credits (CECs), or simply want to acquire more knowledge and expertise in fitness, you can reach your goals by selecting from the following programs.
Scheduled Workshops
NAFC also offers workshops around the country, to help you develop core knowledge in a hands-on setting.
View our full list of available courses and locations
.
Pro-Fit Market
If you wanted to know how to maximize your income as a fitness professional, the Pro-Fit Market could help you. The Pro-Fit Market brings together professionals who will provide educational webinars and solutions to successful business techniques. The ProFit Market was developed as a Dues Free Association, designed specifically for you. In our commitment to support and promote professionals in the health and fitness industry, the NAFC has created a community of exclusive, strategic partners to pass along the goods and services you will find here. These offerings will give you key resources to become profitable in your business career. Click here to learn more.
MEDICAL FITNESS COURSES
NAFC offers the following continuing education related to aging, senior fitness, chronic disease, medical condition, and pre or postnatal care:
Fat Loss Fundamentals
Health & Wellness Certification
Lifestyle Assessment Program
Lifestyle Consultant Program
Nutrition Coach and Performance Nutrition Bundle
Nutrition Coach Foundations
Wellness Consultant Certification
---
Have you purchased a product/service or taken a course from this organization?
We like to ensure that our partners provide you with the same experiences you would come to expect from MFN. Contact us and tell us about your experience.​​