ABOUT US
NFPT has been certifying fitness professionals since 1988 and offers an NCCA accredited Certified Personal Trainer (CPT) certification program. NFPT's education material provides a refreshingly comprehensive approach to the fundamentals of exercise science and offers complete consultation guidelines and instructions for offering safe and effective fitness trainer services as well as business tools needed to work as a successful personal trainer.
Learn more at www.nfpt.com
FOR MFN MEMBERS
MFN professional members receive a 15% discount on the Standard and Premier Personal Trainer Certification packages and all specialty continuing education courses.
Members also receive a 10% discount on the Cancer Recovery Specialist course.
ABOUT OUR COMPANY
NFPT objectives are to:
Ensure that the graduate has an accredited, legally defensible, and trustworthy certification program credential
Provide an affordable, convenient, comprehensive and applicable research-based education
Offer a respected Personal Trainer Certification credential for consumer/employer recognition of competence and professionalism
Provide trainers with the best in continuing education at no additional cost
Provide interactive software for improved quality of service
Facilitate and encourage the exchange of ideas, knowledge, business experiences, and financial opportunities between NFPT's network of fitness trainers and professionals affiliates
PRODUCTS & SERVICES
Personal Trainer Certification
Earn your Certified Personal Trainer credential and immediately be recognized by your title as a CPT! With your NFPT CPT credential, you will show potential employers and clients that you have the knowledge and skill set to be a successful personal fitness trainer. NFPT's CPT program is accredited by the NCCA and adheres to standards which pertain to certification business and test development practices. Learn more about Personal Trainer Certification.
Continuing Education Courses
NFPT continuing education (CE) courses are offered for the purpose of skill set enhancement and reinforcement. Continuing education is a critical part of refining your skill as a trainer, and helps you to stay ahead of what is simply required in the profession – go the extra mile, and get CECs while you're at it!
Below, find a sampling of NFPT courses. Learn more and view all of our specialty and standard continuing courses at nfpt.com/courses/overview.
This course offers insight regarding energy provision from the time foods enter into the digestive process to when they are delivered to body cells, and how this all relates to fitness and athletics. You'll learn about digestion and internal chemical processes, energy provision and conversion, nutrient requirements, and the basic synergy that ties eating and fitness together. Never has the physiology of nutrition been taught to the fitness professional in a way that is more intriguing and comprehensive!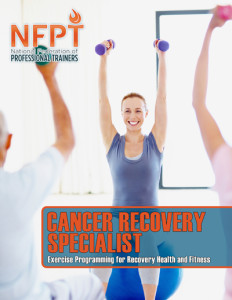 Some cancer survivors are under the impression that they should remain inactive because it will help to decrease fatigue and speed recovery – wrong! Exercise during and after cancer surgery and treatments is extremely helpful for one's physical and mental well-being. Statistically and unfortunately, cancer rates are on the rise at alarming rates. Trainers are often faced with how to effectively help a cancer survivor to maintain their quality of life without putting them at risk for injury. This course will provide the tools to be equipped to do just that! Learn to improve the quality of a cancer survivor's life through the right kind of exercise, strengthening and stretching.
This continuing education course defines functional exercise and explains it's importance to the training program. Learn the science behind functional training and how to apply it to each client. Take a comprehensive look at the foundational principles of functional training and the importance of testing for core strength. This course will cover various techniques for dynamic training of the core through multi-planar movements, challenging the center of gravity, and through isometric exercises.
MEDICAL FITNESS COURSES
NFPT offers the following continuing education related to aging, senior fitness, chronic disease, medical condition, and pre or postnatal care:
Cancer Recovery Specialist
Fitness Nutrition Specialist
---
Have you purchased a product/service or taken a course from this organization?
We like to ensure that our partners provide you with the same experiences you would come to expect from MFN. Contact us and tell us about your experience.​​