ABOUT US

The Open the Door to Tai Chi System is a simple and fun way to become a certified Tai Chi instructor.
Tai Chi is a martial art that originated in China centuries ago. It began as a fighting form for the Shaolin priests, but then changed to its modern interpretation as "movement meditation." The benefits of Tai Chi have been researched and proven to provide stress relief, blood pressure reduction, improved sleep quality, improved balance resulting in fewer falls, increased mental focus/awareness and many more.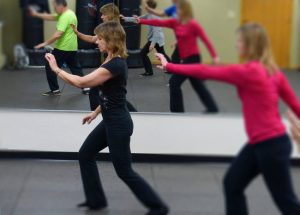 If you haven't heard, the baby boomer market is aging, creating a massive change in the exercise world. And as they age, their values change. Their priorities shift. Most people are unaware of this and/or unwilling to provide the options the baby boomers want and need! Simply put, traditional exercise classes are no longer appealing!
This untapped market has heard about the benefits of Tai Chi. Their Doctor told them about it. They read about it online, in their magazines, and maybe even heard about it from a few friend who tried a DVD awhile ago.
They're looking for a good Tai Chi class. They are already looking for you. The Open the Door to Tai Chi System is an easy to follow curriculum that will give you the confidence and credibility to begin offering Tai Chi to your community.
Learn more at our website, taichisystem.com
FOR MFN MEMBERS
MFN members receive $100 off.
PRODUCTS & SERVICES
The Open the Door to Tai Chi System and Certification
Basic Certification
In this full course, you will learn to Teach TAI CHI. Basic certification includes:
24 READY FOR YOU Class Plans, 16 learning modules
Videos, PDF's, and More
Basic ideas to help you set up your class structure and market it.
Certification
With Distinction Certification
This certification includes everything in the basic course, plus:
Two (2) 30 minute Skype sessions one-on-one with Dianne during your basic learning. Be able to ask specific questions about form, application, or teaching methods.
One (1) 15 minute Skype test session to verify your knowledge and execution of the material. You will be required to perform the form, teach the form and incorporate the concepts taught in the Open the Door to Tai Chi system. This extra level of verification will provide you with the confidence that you know Tai Chi and can teach Tai Chi . . . and it will give your community the confidence that you have been certified by a Master instructor.
Learn more and purchase at taichisystem.com/get-started/