ABOUT US


Rick McAvoy Aquatic & Sports Therapy is dedicated to providing the highest level of aquatic training & consulting to meet all your aquatic needs.
If you're looking to get your clients and athletes feeling, moving and being better, come get in the water. RMA is an outside-the-box, in-the-pool solution to health, fitness and performance. You will learn innovative ways to improve function and evolve your training skills by using science for success. RMA has over 25 years of aquatic rehabilitation and sports performance experience to deliver accelerated results for your clients and athletes.
Learn more on our website, rickmcavoyaquatics.com
FOR MFN MEMBERS
MFN professional members receive $50 off.
ABOUT OUR COMPANY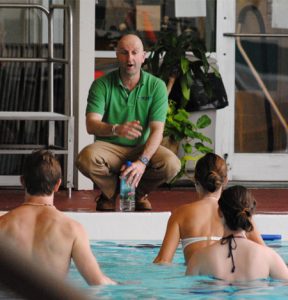 Dr. Rick McAvoy, PT, DPT, CSCS has specialized in Aquatic Physical Therapy and Sports Performance for over 25 years. He works with Master Spas the largest swim spa manufacturer in the world educating and promoting aquatic fitness, rehab and training. He is an Educational Consultant for Aquastrength, a New Zealand based company focusing on aquatic training and equipment.
Rick is a published author and researcher in the field of Aquatic Therapy and Fitness as well as Sports Performance. He trains and consults with numerous athletes and sports teams from professional sports, collegiate and high school teams, along with fitness and healthcare institutions. Rick is sought after Master Instructor in the Burdenko Method, a specialized form of dynamic aquatic and land-based techniques. Rick lectures nationally and internationally throughout the year teaching the benefits of Aquatic Therapy and Fitness and Sports Performance to health clubs, athletic institutions and health care practices. Rick is an adjunct faculty member at both The University of New Hampshire in the Department of Kinesiology and Franklin Pierce University in the Doctoral of Physical Therapy program.
PRODUCTS & SERVICES
RMA trains health and fitness professionals to harness the power of aquatic training. It is not just land-based training in the water. Water is typically used for its supportive properties. However, by maximizing the 3-dimensional resistive properties of water and having a good understanding of kinesiology, biomechanics and neurophysiology, a dynamic training environment is created. RMA's outside-the-box approach enhances the lives of your clients and athletes.
RMA's training is for:
Forward thinking health and fitness professionals looking for an outside-the-box approach to training
Professionals who are interested in a functional evidence-based practice
Professionals who are constantly challenging themselves with new techniques and approaches
Anyone who wants to create a niche in their practice
Anyone who feels stuck in a training rut
Learn more at rickmcavoyaquatics.com/train-with-me
MBA: Medically Based Aquatics
In the ever changing world of Healthcare with Growing costs and insurance cuts there is a demand being created for a cost-cutting alternative that reinforces health and decreases clinical visits. We continue to see the gap narrow between rehabilitation and fitness.
Medically Based Programs include:
Parkinson's Fitness
Cancer Survivor Fitness
Fall Prevention Program
Post-op Fitness for Upper/Lower/Core
Pre-hab Fitness for Total Joint Replacement
Learn more at rickmcavoyaquatics.com/mba-medically-based-aquatics