ABOUT US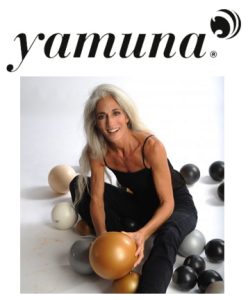 Under the leadership of Yamuna Zake, a master teacher of body sustainability, what began as singular dedication with focused hands-on body work, has evolved into a global brand with a network of over 600 certified practitioners and the attendance of over 2,000 holistic practitioners in Yamuna branded teacher training and workshops worldwide.
Today the Company is a leading source of education for teachers, therapists, and fitness instructors interested in expanding their knowledge in BodySustainability which can enhance their core expertise, and often lead to a longer term interest in becoming a certified YAMUNA® instructor.
Complementing this focus, the Company markets and sells a curriculum of exercises, and a proprietary line of body rolling balls for teachers, students, and studios. The Company also produces an exclusive line of beauty blends and therapeutic remedies which are distributed by luxury spas, boutique studios, and fine department stores.
Learn more at our website, yamunausa.com
FOR MFN MEMBERS
MFN professional members receive $50 off YAMUNA® courses. Instructions coming soon.
PRODUCTS & SERVICES
Become a Certified Practitioner

Join the growing number of people who are choosing the YAMUNA® TRAININGS as their choice in education for working with other people to build healthy, pain free, and unrestricted bodies.
All of the Yamuna® trainings are dedicated to educating professionals who want to teach others to become self-empowered. Each of the trainings has a strong emphasis on working correctly with the anatomy and the natural order of movement in the body.
At the core of all the trainings are several key concepts:
Direct bone stimulation – which improves the quality of bone and rids the bone of excessive impact.
Quality and alignment of bone which determines the quality of muscle.
Muscles that need to be worked from origin toward insertion.
The use of mild traction allows muscles and fascia to elongate and unwind.
Alignment of the bones first, and then the work of the muscles to improve bone alignment
Adding a YAMUNA® training to your present work will only enhance your skills. All of the YAMUNA® work can easily be integrated into any other work that you offer.
All of the YAMUNA® work promotes BODY SUSTAINABILITY. Choosing to help people make healthy body choices to prevent injury and common break down so they maintain healthy and freely moving bodies at every age is at the core of all of the YAMUNA® education
Focused Trainings:
Yamuna ® Body Rolling
Yamuna® Foot Fitness (part 1 and 2)
AnatomyU
Yamuna® Face Ball
Yamuna® Table Treatment
Yamuna® Breath work
Yamuna® Body Logic
Yamuna® Yoga
To learn more about YAMUNA® focused trainings, visit our website,
yamunausa.com/pages/become-a-practitioner
Professional Anatomy U Training Program
Adding this anatomy training to your practice will bring you a great tool when working with your client and patients helping them to problem solve with a visual and practical format. This anatomy program helps you to teach them how to be proactive and be part of their own problem solving journey. You will be raising the quality of your practice. People want to see, and understand and be proactive when there is a problem in their bodies. Being able to show a person the muscles in a body part and how to work each one enabling the person to be part of his problem solving is huge.
Learn more at yamunausa.com/pages/education-training