ABOUT US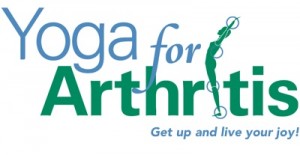 Yoga for Arthritis was developed at a leading research university by an interdisciplinary team of medical and healing professionals. This team included rheumatologists, psychologists, public health researchers and yoga therapists.
Combining ancient yoga practices with modern medical knowledge, this program offers modifications to address the unique abilities and limitations of persons with rheumatoid and/or osteoarthritis. In a 7-year randomized clinical trial, program participation was associated with improved arthritis symptoms, disease biomarkers, physical fitness, psychological functioning and quality of life.
Our mission is to assist people who are feeling disconnected from their bodies so that they can rediscover freedom of movement, and the inner power to live life on their terms.  To foster a new concept of the possibilities for people living with arthritis.  To free our students from pain, if only for a moment, so that they might experience pure joy and know it is their true nature.
Learn more at our website, arthritis.yoga
FOR MFN MEMBERS
10% off anything in the YFA Store including training materials for trainings.
PRODUCTS & SERVICES
Teacher Training
The mission of this training program is to qualify yoga teachers to safely and effectively impart rigorously researched yoga practices, with individually-tailored modifications, to those with arthritis and its related conditions. Yoga teachers successfully participating in this course will receive a certificate of completion, teacher manuals for implementing Yoga for Arthritis, a 16-class structure, in their local communities. Completion also qualifies a participant for up to 34 hours of Yoga Alliance credit.
As a result of taking this program, the program participants will be able to:
Understand the basic differences between rheumatoid and osteoarthritis
Offer modifications for persons with arthritis attending their yoga classes
Teach Yoga for Arthritis classes in their communities
Work individually with arthritic clients of all ability levels
Learn more and find upcoming training at our website, arthritis.yoga/teacher_training
---
Have you taken a course or certfication from this organization? We like to ensure that our partners provide you with the same experiences you would come to expect from MFN. Contact us and tell us about your experience.