ABOUT US


AB-EZE is a smart, new way to strengthen your core. The revolutionary design supports your body against gravity to specifically activate the muscles of your abs, back, glutes, and legs.
AB-EZE will transform your physique without changing your lifestyle. No time to workout? In just minutes, you can efficiently strengthen your core wherever and whenever your schedule permits. Use AB-EZE between meetings, while baby is napping, as dinner cooks, when taking a study break, or even while you're watching tv or talking on the phone… AB-EZE is the perfect solution for busy people because it turns unused minutes into body changing moments without breaking a sweat or even changing into workout clothes!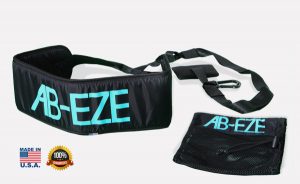 Everyone can use AB-EZE whether you are just starting out or a fitness pro. Choose from a variety of exercises proven to tone your tush, sculpt your abs, and strengthen your back. With AB-EZE you can shape the backs of your legs and shrink your waistline. Tightening your core will relieve back pain, too.
Visit the AB-EZE website, ab-eze.com
AB-EZE was created by Missy Reder, mother of four children, who knew all too well that even the best experiences in life can take a toll on our bodies. After the birth of her youngest child, she was left with four finger width diastasis recti and three epigastric hernias. The invasive surgery taken to correct them left her with significant core weakness. She discovered the idea for AB-EZE while sailing on a catamaran. Click here to read her full story and inspiration for AB-EZE!
FOR MFN MEMBERS
MFN professional members receive 20% off AB-EZE and free shipping. Plus, get 30 day access to AB-EZE's LOOP membership, which includes over 100 videos for using AB-EZE, strategies for success, member forum and private Facebook group for AB-EZE trainers and users!
Discount instructions available to members only. Log in to view.
PRODUCTS & SERVICES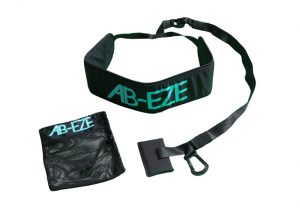 You can enjoy more traditional movements or a fun, dance style workout. Challenge yourself with advanced exercises. You can even strengthen your entire core without ever having to get down on the floor. The choice is yours. The adjustability and open belt design make AB-EZE the perfect solution for people of all ages and fitness levels to look and feel their best.
Portable
Weighs less than 2 pounds
Includes Matching carry pouch
Weight limit 200 pounds
60″ loop with comfortable support pad
Adjustable length suspension strap
Cam buckle to adjust length
Door anchor for door use
Carabiner for fixed anchor point use
Purchase your AB-EZE, ab-eze.com/shop-ab-eze/