ABOUT US

Body Bar, Inc. is the originator of the weighted exercise bar. A classic fitness tool, the Body Bar® is a simple, one-piece solid steel bar encased in high quality, easy-grip rubber.
Standard 48" Body Bars come in weights from 3-lbs to 24-lbs, with longer models up to 36-lbs. 24" Mini Bars come in weights of 4-, 6-, and 9-lbs. The advantage of the Body Bar is that the weight of each bar is spread evenly over the length of the bar.
User friendly and cost effective, multipurpose Body Bars are used in group exercise classes in fitness clubs and similar facilities around the world, as well as for personal training, physical therapy, and home workouts.
Our website is www.bodybar.com.
The name 'Body Bar' is trademarked in the U.S. and a number of foreign countries.
FOR MFN MEMBERS
MFN professionals receive 30% off all new bars (weighted Body Bars, Body Bar FLEX, AquaFLEX and NoodleFLEX, FLEX TREK, racks, videos, and bar+video packages). Not applicable to Club packages.
ABOUT OUR COMPANY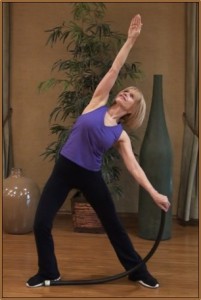 Founded in 1987, Body Bar, Inc. developed and introduced a line of steel fitness bars covered in easy grip, durable rubber. Interest in the Body Bar grew quickly as fitness experts such as Sherry Catlin, Molly Fox, and Karen Voight began to incorporate it into their programs. Users liked that the weight spread evenly across the length of the bar enabled full range of motion around the body.
Today, the Body Bar can be found in facilities around the world and is considered an industry standard. It is a versatile tool perfect for resistance training, stretching, and balancing, and is an excellent addition to cardiovascular training.
The concept of "One Bar. Infinite Workouts." has given group ex instructors and personal trainers the ability to incorporate cost-effective programming into their facilities and workouts. Body Bar is the only manufacturer of weighted exercise bars to offer programming via workout and instructional videos, wall charts, and online content.
Body Bar has a strong industry tradeshow presence, with Body Bar classes being featured at such shows as IDEA World, DCAC, FitnessFest, AAAI, and Athletic Business. Body Bar classes are presented by leading industry professionals, including Sherry Catlin, Keli Roberts, June Kahn, Leslee Bender, and Janis Saffell.
PRODUCTS & SERVICES
Classes & Workshops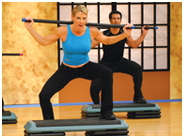 Body Bar offers an extensive program of Instructor Training Workshops and Master Classes that teach how to fully utilize Body Bar products safely and effectively in group exercise and personal training. Originally developed by Sherry Catlin, IDEA 2004 Program Director of the Year, our workshops combine traditional training with the latest industry trends and will take your instructors and personal trainers to the next level of skill, knowledge and practical application.
With over 30 programs, your club will be able to offer a continuing stream of new and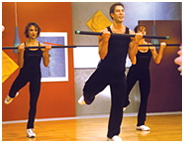 innovative classes. Body Bar can assist you in creating a seamless, simple and cost effective workshop strategy that will enhance your group exercise program with great programming to suit your particular market. All Body Bar Programs provide Continuing Education Credits from ACE.
Body Bar's 30+ programs include:
Strength and Conditioning Workouts
Cardio Interval Training
Sport-specific Training
Martial Arts
Yoga, Pilates, Barre, Tabata
Balance and Alignment Formats
Kids and Teens Programs
Active Adult Programs