ABOUT US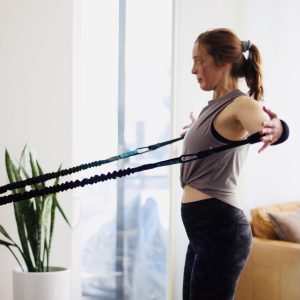 Corefirst™ believes in moving and living from the 'core' first and their proprietary tool to deliver this is the Corefirst™ System… the world's first portable, grip-free resistance training tool. The Corefirst™ weighs less than 2lbs, is smaller than a pair of shoes, anchors at any height, sets up in seconds and, most importantly, allows the user to train, while 'letting go.'
Corefirst's™ unique, patent-pending system and education, helps:
relieve (grip) tension in the limbs, by-passing hand, wrist, elbow and shoulder constraints
create a simplified environment to create proximal stability (activated core) and distal mobility (tension free limbs)
contract / relax assisted stretching for a deeper, more effective PNF stretching practice without a partner
fight flexion. It applies resistance, or assistance, without having to default to flexion to hold onto resistance
provide access to hands for other training tools, floor-work, parter-work, etc.
provide a comfortable, high quality pre-hab / rehab training tool (increasing consumer/patient use)
Every Corefirst comes with unlimited 7-day free trial of the Corefirst™ App- a vault of best-in-class coaches to motivate you through hundreds of Pilates, Stretch, Strength and Metabolic exercises, all elevated with the Corefirst.
Visit the COREFIRST™ website, mycorefirst.com.
COREFIRST™ also offers education for fitness professionals to become COREFIRST™ Qualified. Learn more at mycorefirst.com/education.
FOR MFN MEMBERS
Take an additional $10 OFF any Corefirst System plus FREE SHIPPING in the US on orders over $100.