ABOUT US

Exero™ System combines three essential elements of fitness to increase energy, burn calories and feel good. That's the Exero System effect!
The combination of different disciplines of exercises are what our bodies respond to. The Exero™System's design combines cardiovascular and resistance training with suspension, isometric, lengthening and stretching exercises.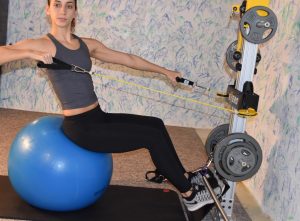 Make your facility the one everyone is talking about; offer your facility one machine, one small footprint and sleek appearance, that incorporates an endless variety of workouts.
Cardiovascular Training: The double-reduction pulley system allows for smooth linear as well as three-dimensional movement of the handles at any speed.  Whether you choose to face towards or away from the Exero™ System, utilize a step, bosu, or the floor–your freedom to move is unlimited.
Unilateral Training:  The Exero™ System allows you the flexibility to work both the left and right sides of the body individually.  You can choose to work upper and lower body unilaterally or add more resistance on one side while isolating the other side of the body with suspension work.  The Exero™ System offers trainers endless possibilities.
Bilateral Training: The Exero™ System incorporates both weights and spring work at varying degrees of resistance, making the Exero™ System's workout customizable for all athletic abilities.
Suspension Training: The suspension lock on the Exero™ System gives you the option to lock the cables into place at many different levels, giving clients the versatility to adapt the machine to a custom fit for different body types, sizes and athletic abilities.
Visit our website, exerosystem.com
FOR MFN MEMBERS
MFN professional members receive $200 off the Exero™ System.
PRODUCTS & SERVICES
The Exero™ System
The Exero™ System appeals to any age, gender or athletic ability, opening up your facility to more clients.
The Exero™ System can be used in a group session setting or in private and semi-private sessions, giving your facility and trainers more earning power.
The versatility of the Exero™ System allows it to be used in many different exercise disciplines, which will continue to motivate your clients and trainers.
The Exero™ System fills a gap in the fitness market and does so through a small footprint and sleek appearance. Mounted to the floor, ceiling or a wall, the Exero™ System can be utilized from either side.
Trainers can work with two clients at the same time on a single Exero™ System machine, maximizing facility and fitness trainers' time and resources.
To purchase for your facility, contact Exero™ System by email info@exerosystem.com, or phone (908) 832-3011.