ABOUT US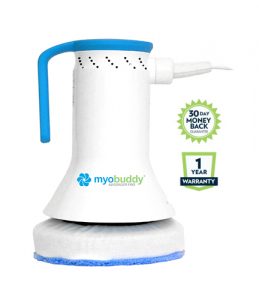 MyoBuddy Massagers® takes the lead in providing the most powerful, comfortable and user-friendly percussive massage devices available on the market.
Developed by MyoBuddy Massagers, the MyoBuddy Massager Pro's® therapeutic action is similar to well-known chiropractic and physical therapy devices, yet affordable for the home shopper.
Used by heroes in the fitness and wellness industries to treat sore muscles and reduce the risk of injury, MyoBuddy Massagers also live in the living rooms of regular everyday folks, plugged in next to the couch and always on call!
MyoBuddy® Massagers are the perfect tool to complement professional massage of all kinds. Used by Chiropractors, Licensed Massage Therapists, Physical Therapists, Physicians, Fitness Professionals, Personal trainers, Crossfit Professionals, Olympians, Sports Trainers, High School, Collegiate and Professional Athletic Programs, Spas and Salons and more.
Treat pain, tension, circulatory system and nervous system while feeling AMAZING! Providing wellness in seconds, MyoBuddy PRO offers a full-body massage and features all types of massages including relaxation, trigger point, deep tissue, recovery, sports, circulatory, friction, percussion, mobility, lotion, essential oils, pre/post exercise, and dry brushing.
Visit our website, myobuddy.com
FOR MFN MEMBERS
MFN professional members receive:
$50 off Pro2
$100 off Pro2+
$150 off Packages