ABOUT US


Everyone can benefit from exercise, but health club workouts and strenuous exercise programs aren't for everyone! Chair Dancing® Fitness encourages health and fitness for active people or those whose physical condition, restricted mobility, or age, limits their participation in conventional forms of exercise.
Do you ever recommend/prescribe exercise for the health benefits and the patient/client can't seem to get it done? Give the opportunity to people with psychological resistance or physical limitations an easy & efficient way to accomplish life changing healthful exercise. Our programs promote fitness to those 80% or more of our population who mean well and need to exercise, but don't.  The excuses are very real. Issues with feet, knees, being overweight and out of shape or simply bad weather can certainly make many standard exercise options intimidating and out of reach. The solution to your prescription is to offer our easy aerobics, strengthening and stretching in any chair, anywhere!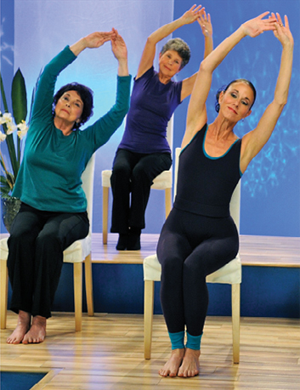 Many of our customers do our chair workout to help them with:
Diabetes Management
Heart Disease (Cardiac Rehab)
Multiple Sclerosis (Exercise for balance and mobility)
Fibromyalgia (Pain Management and Circulation)
Obesity (Lo-impact Exercise for Weight Loss)
Osteoporosis (Bone Strengthening)
COPD (Ease of Exercise)
Parkinson's (Rhythmical movements through a full range of motion have been shown to decrease rigidity)
Arthritis (Limbering stiff joints)
High blood pressure/Hypertension (Exercising regularly for a healthy lifestyle)
Bariatric surgery/ Gastric Bypass (Preperation and Weight Loss Maintenance)
Knee, hip, foot Injuries (Exercise for Rehabilitation, keeping fit during recovery)
Learn more at our website, chairdancing.com
FOR MFN MEMBERS
MFN professional members receive a 25% discount on Chair Dancing® Fitness products.