ABOUT OUR COMPANY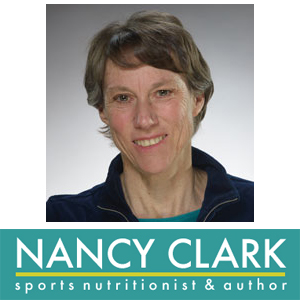 Nancy Clark is a registered dietitian (RD) and board certified specialist in sports dietetics (CSSD). She offers one-on-one personalized sports nutrition counseling to casual exercisers and competitive athletes at her private practice in the Boston-area (Newton). She teaches her clients how to have more energy, lose undesired body fat, enjoy a winning sports diet—and feel confident about their food choices.
Nancy's "how to" books on nutrition for sports and exercise, including her best selling "Nancy Clark's Sports Nutrition Guidebook" and food guides for new runners, marathoners, soccer players and bicyclists are popular resources. They include tips on daily eating and how to effectively lose weight.
Nancy also has created sports nutrition handouts and PowerPoint presentations that are available for purchase by nutrition professionals throughout the country.
Some of the more renowned clients that have relied on Nancy's expertise in diet for sports conditioning to gain a competitive edge have included members of: Boston Celtics, Boston College, and many collegiate, elite and Olympic athletes from a variety of sports. She has been Team Nutritionist for the Boston Red Sox baseball team.
Learn more at her website, nancyclarkrd.com
FOR MFN MEMBERS
With $15 or more purchase, free handout of you choice from Nancy Clark's set of 16 reproducible handouts.
PRODUCTS & SERVICES
Home Study & Workshops
Nutrition and Exercise Workshop
Sports nutritionist Nancy Clark with exercise physiologist William Evans PhD offer online their popular Nutrition & Exercise Workshop: From Science to Practice now online. Learn more »
Home Study Course for Sports Nutrition Guidebook (5th Edition)
Dietetics and nursing continuing education program. Twenty-five (25) hours of continuing education. Available with or without CE credits. Learn more »
Sports Nutrition Books & Audio
Some of Nancy Clark's books include:
Sports Nutrition Guidebook, Fifth Edition
Food Guide for New Runners: Getting It Right From The Start
Dieting Gone Awry
Dieting for Active People (mp3 download)
Nutrition for Sports, Exercise and Weight Management: What Really Works—And Why
Teaching Materials
Nancy also offers free sports nutrition materials on her website. Her presentations, handouts and books will save you preparation time and help you win as a nutrition educator. Nancy routinely updates these materials, keeping them up to date.