ABOUT US

Now in our 15th year of publication, Today's Dietitian is an established magazine and brand for registered dietitians and nutrition professionals that reports on essential topics relevant to the profession. Topics include diabetes management, heart health, food allergies, weight control, as well as, the latest in industry research, career strategies, nutritional supplements, fitness, and special dietary options that include gluten-free living, plant-based diets, organic foods, and much more! This trusted resource is an essential career development resource for all dietitians and nutrition professionals. Learn more at our website.
FOR MFN MEMBERS
MFN professional members receive a 20% discount on their subscription of Today's Dietitian.
MFN members also receive 10% off all Today's Dietitian courses and course packages found in their learning library at http://ce.todaysdietitian.com. The CE Learning Library is a fully-accredited resource for dietitians to earn continuing education credits. Partner books are not eligible for discount, only Today's Dietitian courses and packages. See list in 'Products & Services' to view courses eligible for discount.
PRODUCTS & SERVICES

Today's Dietitian subscribers can view our content in a variety of ways. The Today's Dietitian brand includes a monthly printed magazine and digital edition, monthly e-Newsletter, social media on FB and Twitter, website, as well as, CE Learning Library and Spring Symposium for Today's Dietitian's continuing education content.
In addition to our award-winning print magazine and its digital companion, we also offer the CE Learning Library, a resource for dietitians to earn continuing education credits. Accredited as a CPE provider by the Commission on Dietetic Registration, the Today's Dietitian CE Learning Library offers professionals a range of self-study courses and webinars that are innovative and relevant for nutrition professionals in need of credits for recertification and general career development.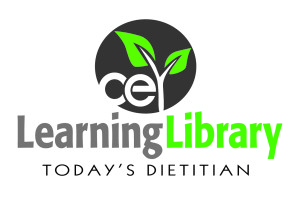 Today's Dietitian Courses List
Courses listed below are eligible for the 10% discount for MFN professional members.
View course details at the CE Learning Library.
Our audience is also extremely active in social media, so we have a well-received daily presence on Facebook and Twitter that continues to expand organically and gather a following throughout the English-speaking world.
---
Have you purchased a product/service or taken a course from this organization?
We like to ensure that our partners provide you with the same experiences you would come to expect from MFN. Contact us and tell us about your experience.​​