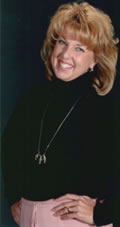 Tammy Petersen is the Founder and Managing Partner for the American Academy of Health and Fitness (AAHF). She's written a book on older adult fitness and designed corresponding training programs. SrFit Mature Adult Specialty Certification is used nationwide as the textbook for a college based course for personal trainers who wish to work with mature adults. SrFit is also the basis for a specialty certification home study course that qualifies for up to 22 hours of continuing education credit with the major personal trainer certification organizations.
She has also co-created with her business partner, Pete Bazzel, ten other educational programs: JrFit Youth Fitness Specialty Certification, Cancer and the Older Adult,  Fitness Assessment and Exercise Prescription for All Ages, Exercise Management of Chronic Diseases and Disabilities for All Ages, Nutrition for Special Dietary Needs, Developing Agility and Quickness for Sport Performance, Strength Training Older Adults, The Janda System of Evaluation and Treatment of Muscle Imbalance, Back Stability: Integrating Science and Therapy; and, Move More, Eat Better – YOU Matter!.
Tammy's educational background includes Bachelor of Science degrees in marketing and economics from Pittsburg State University, Pittsburg, Kansas. She holds a Master of Science in Education in the area of health and fitness, with an emphasis in geriatrics, from the University of Kansas, Lawrence, Kansas. She has been an author for Personal Training on the Net. Additionally, her articles have appeared in IHRSA's Club Business for Entrepreneurs, Personal Fitness Professional, Club Industry's Fitness Business Pro, AFAA's American Fitness and OnSite Fitness.
Visit the AAHF website, aahf.info.