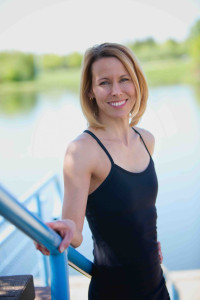 Anita Parker is an AFLCA Trainer of Leaders specializing in certification courses, workshops and conference sessions for fitness professionals. She is based in Alberta, Canada and has been inspiring clients for more than 20 years with personal training, group exercise and yoga classes. Anita is partial to athletic, interval fitness training and vinyasa style of yoga, because she finds these best attend to her clients' limited time, misaligned joints and overall wellbeing. Anita hosts an annual fitness & yoga retreat in the beautiful Rocky Mountains, which is a sellout every year. Attendees enjoy a mix of strength, aerobic and mindbody exercise, as well as an inspiring and challenging hike. Anita also authors credible and relevant exercise and nutrition articles every week for her online blog and has developed the moveBALL™ fitness training method for facilities and home environments. Through blogging and moveBALL™, Anita is able to bring exercise knowledge and motivation beyond her community.
Anita completed both her science and education degrees at University of Alberta. She received her Personal Fitness Trainer certificate from Northern Alberta Institute of Technology and traveled to Toronto for her 200-hour yoga teacher training with East to West Yoga. Anita is always seeking ongoing learning opportunities with courses, workshop, networking and reading. Her teaching, writing, resource development, web design and management, as well as marketing and other business activities are an amalgamation of her education and life experience.
Anita is driven by the scientific fact that exercise is not an option. Daily physical activity is essential for anyone wishing to live his or her best life. She strives daily to help clients incorporate exercise into their busy schedules with innovative, time effective and functional workouts. Anita lives in Sherwood Park, Alberta with her husband and two active boys.
Learn more about Anita at the Fitness Matters Blog