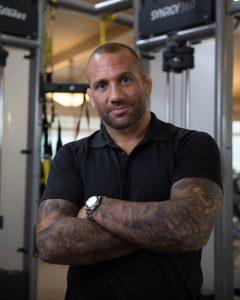 Dominick Nusdeu has been certified as a Personal Trainer for over 20 years. He studied Exercise Science with Minors in Nutrition and Public Health from SCSU. He holds the distinction of Muscle System Specialist, Resistance Training Specialist, ACE Orthopedic Exercise Specialist, as well formally being one of only 14 Instructors of Muscle Activation Techniques worldwide and was one of only 85 Master Level Muscle Activation Techniques Specialists in The World.
Dominick is a trainer to the trainers, teaching his highly successful course, "Decision Making 101: From the Table to the Floor." Dominick has completed well over a 2000 hours of advanced coursework in biomechanics, exercise mechanics, neuroscience, anatomy, physiology, and muscle function. He has appeared on ESPN radio as well as written several articles about exercise mechanics.
He currently owns and operates MotionMechanix (MMX), Muscular System Optimization LLC, and MotionMechanix Academy, which was formed out of a need to give fitness enthusiasts and current exercise professionals quality, high level education backed my science, not what's currently trendy or "cool". It also gives students a very specific path to grow as exercise professionals. MMX created a 6 part training track that provides the student with all the tools needed to be an amazing exercise professional over time.
MotionMechanix, Muscular System Optimization was founded out of a need for a safe, effective, and individualized evaluation process and exercise prescription. The goal is to help people live a healthy and eventful life, pain free. Most of Dominick's clients are frustrated due to nagging discomforts, that no matter what they do or who they see just don't seem to get any better or go away. They want to play with their kids/grandkids, get back to playing sports, prevent further injury, and just be able to complete daily tasks pain free. MotionMechanix take a different approach compared to other modalities, medical professionals, and practitioners when looking at the human muscular/nervous system.
Dominick is also a third degree Brazilian Jiu-Jitsu Blackbelt Under Professor Fabio Araujo from the legendary Carlson Gracie Team. He's currently training under Multiple Time world champions Lucas "Hulk" Barbosa And the legend Professor Andre Galvao at the number one Academy in the world, Atos! He is a 15x North American Grappling Association (NAGA) Champion, 2x A.G.C. Team Tournament Champion, and 2x Grapplers Quest Champion.