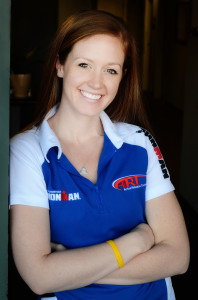 M.S. in Sport Science and Rehabilitation
M.S. in Nutrition and Human Performance
Active Release Technique® Certified
Dr. Harrington grew up in Mitchell, South Dakota, where she was very active in the community by playing volleyball, softball, and basketball along with being involved in camps, volunteer work and youth activities.  After graduation, she attended the University of Nebraska-Lincoln, where she studied Biological Sciences.  After receiving her B.S. degree in 2008, she moved to Saint Louis, MO to pursue her degree in Chiropractic.  Also completing her internship in the Sports and Rehabilitation Department, and studying towards her Masters in the subject, her educational experience includes:
Treating DI Athletes at the University of Missouri
Medical Staff for AAU Track Meets
Post-race rehabilitation and injury treatment at the GO! St. Louis Marathon for 3 years.
Surgical Rotations at the NeuroSpine Academy
On-field Injury Assessment
Research on Gait Assessment and Balance
Active Release Technique Full-Body Certification
Webster Technique Certification
Dynamic Neuromuscular Stabilization "A" and "Exercise"
200-Hr Yoga Teacher Training
Throughout her four years there, Dr. Harrington developed an amazing sense of fitness and health and, through her personal struggle to lose 40 pounds and complete her first half marathon, she realized her passion to help others towards their goals of total wellness.  Five half marathons later, and in the best shape of her life, Dr. Harrington graduated Cum Laude in 2011, and moved to California permanently to begin her chiropractic practice, Maximum Performance Chiropractic, in Costa Mesa.
Realizing throughout her education that holistic wellness starts from within, Dr. Harrington decided that with nutrition's integral role in wellness, she wanted to better serve her patients by educating them on the subject.  She began studying to earn her Masters in Nutrition and Human Performance in 2012 and is currently writing her thesis on the connection between gluten intolerance and thyroid problems.  By using her training and helping people realize and connect with the 4 Pillars of Health (Proper diet, proper exercise, proper sleep, and proper movement), her goal with treating her patients is to empower them to take control of their health, and live at their highest level of function.
Learn more about Maximum Performance Chiropractic at their website.