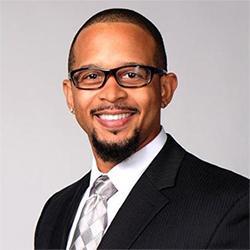 ABOUT DR3
David Rachal III, Founder/CEO of HEALTHEFIT. Since 2001, David has established a reputation for innovative strategies and success in both the medical and fitness industry utilizing knowledge acquired through his undergraduate studies in Recreational Therapy and Master of Business Administration in Healthcare
... show more.
Payment Methods
Paypal
Credit/debit Cards
Personal Check
Virtual Sessions
We provide: Virtual consultation and evaluation of basic strength and cardiorespiratory endurance using Doxy.me (HIPAA, GDPR, PHIPA/PIPEDA, & HITE ...Learn more

DR3 has more than 2 Years experience with remote sessions.
I am interested in working with people who have the following conditions:

| | |
| --- | --- |
| I am certified in: | Arthritis • Cancer - General • Diabetes • Heart Disease • Osteoporosis • Stroke • Women's Health • Obesity |
| I am familiar with: | Alzheimer's Disease • Breast Cancer • Fibromyalgia • Mental Disorders • Multiple Sclerosis • Parkinson's • Respiratory Disease • Post-Surgical |
Education
Jones International University -- Healthcare Administration
Grambling State University -- Therapeutic Recreation
Industry Certifications
American College of Sports Medicine -- Exercise is Medicine
Functional Movement Systems -- FMS-C
Continuing Education and Coursework
StrongFirst -- SFG Kettlebell Certification
National Strength & Conditioning Association -- Tactical Strength & Conditioning Facilitator
Rush University -- Designing and Implementing Clinical Fitness Programs: Collaborating with Medical Professionals
Rush University -- Exercise Motivation Spotlight: Evidence-Based Strategies that Best Support an Active Lifestyle
Rush University -- How to Combine Fitness & Medicine to Redefine Healthcare: The 5 Pillars of Integrative Practice Success
Rush University -- Nutrition & Fitness Integration in the Medical Practice through Virtual Care
Rush University -- Opportunities for the Diabetic and Pre-Diabetic Patients in Fitness & Nutrition Offerings
Rush University -- Treating Sleep Disorder Patients with Fitness and Nutrition Programming
Rush University -- Rehabilitation and Recovery for the Orthopaedic Patient: The Benefits of Integrating Formal Physical Therapy with Health Clubs, Nutrition and Lifestyle
Rush University -- The Changing Healthcare Landscape: How to Maximize the Opportunity
Rush University -- Fitness & Nutrition as an Effective Tool for Cardiac Patients
Rush University -- The Need to Integrate Bariatric Patients into Fitness, Nutrition and Lifestyle Offerings
Rush University -- How the Fitness Industry Impacts Value Based Care
Medical Fitness Association -- Move Medical Fitness Forward!
MedFit Education Foundation -- How To Get Real Results For You And Your Clients
MedFit Education Foundation -- How to Build a Collaborative Health Care
Additional Certifications
CPR/AED -- ProTrainings
Liability Insurance -- CM&F Group
Techniques and Specialities
Insurance Types Accepted
Virginia Premier (In-Network) Anthem (Out-of-Network) Cigna (Out-of-Network)
DR3's Locations
5604 Charles City Circle, Henrico, VA 23231
HEALTHEFIT RVA, 3600 W. Broad Street, Richmond, VA 23230