ABOUT US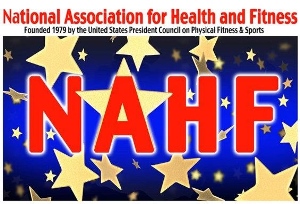 The National Association for Health and Fitness (NAHF) was founded in 1979 by the United States President's Council on Physical Fitness and Sports. NAHF is a non-profit organization that exists to improve the quality of life for individuals in the United States through the promotion of physical fitness, sports and healthy lifestyles.
Our mission is to improve the quality of life for individuals in the United States. NAHF does this through its members by
promoting physical fitness, sports and healthy lifestyles;
championing environmental and policy support for active living;
advocating for quality physical education in our schools;
encouraging the implementation of workforce health promotion programs;
networking and supporting existing Governors' Councils on Physical Fitness, Sports and Nutrition, and fostering new State Councils and Coalitions on Physical Fitness, Sports and Nutrition in every State and US territory.
NAHF hosts a bi-annual Forum and houses the Glen Swengros Award and Gold Star Awards. We provide public relations and media support for any health related topics. NAHF is the architect of Global Employee Health and Fitness Month (GEHFM) and international and national observance of health and fitness in the workplace. The goal of GEHFM is to promote the benefits of a healthy lifestyle to employers and their employees through worksite health promotion activities and environments.
America shares in the social, economic, health and environmental benefits that come from living an active lifestyle. NAHF values active living (integrating physical activity into daily lives), community involvement and leadership development for all sectors, quality physical education in our schools, workforce health promotion programs, active-aging programs, and partnerships for a healthier America.
Visit the website, physicalfitness.org
FOR MFN MEMBERS
MFN professional members receive a discounted rate on NAHF membership.
JOIN OUR ASSOCIATION
Benefits of Membership
NAHF Forum Member Discount
National Forum is held at various locations across America.
The purpose of the Forum is:
To facilitate networking among states
To enhance the capacity of Governor's Councils and Community Coalitions to fulfill their missions
To identify issues / actions that NAHF and its partners can address collectively
Gold Star Awards Program
A recognition of outstanding State Councils and members who make significant contributions to the advancement of support of health and fitness. Featuring the Glenn V. Swengros Award which recognizes outstanding leadership in the field of health, fitness and sports.
Global Employee Health and Fitness Month
Celebrated across the world, Global Employee Health and Fitness Month (GEHFM) promotes the importance of the "health" of our workforces. Members receive toolkit and opportunities to assist in celebrating Global Employee Health and Fitness Month. Learn more about GEHFM at www.healthandfitnessmonth.org.
National Physical Activity Plan
NAHF and its members are actively involved in implementing and supporting the National Physical Activity Plan. Check out the National Plan website physicalactivityplan.org to learn more!
Healthy People 2030
National Association for Health and Fitness (NAHF) plays a key role in Healthy People 2030 with the launch of the Alliance for Healthy Lifestyles and Healthy People  We are collaborating with the Department of Health and Human Services in the creation of collective impact SECTIONS devoted to important areas of common interest in Healthy People 2030.
Networking / Partnerships / Advocacy
Regional meetings with member states.
With national organizations including the President's Council, CDC, NCPPA, Health Promotion Advocates, American College of Sports Medicine, and the International Association for Worksite Health Promotion.
NAHF is currently advocating with members of the U.S. Congress on a daily basis for the passage of the legislation titled: Personal Health Investment Today (PHIT) (passphit.org) Senate#844; House Rules#3109 PHIT has bipartisan and bicameral support and is a reasonable piece of legislation which will amend the IRS Code of l986 to treat certain amounts paid for physical activity, fitness and exercise equipment as amounts paid for medical care. The PHIT Act would make any expense exclusively intended for the sole purpose of being physically active eligible for FSA/HSA reimbursement.
Media / Public Relations Support
Raising awareness of the accomplishments and innovative work being done by our member states and organizations.
Communications
Interactive website (upgrading always in progress), members have access to share activities and events occurring in their state or local community. Regular "members only" email communications on relevant national, statewide and local news.
Consulting / Technical Support
NAHF, through its National Office, Board and members, is available to provide existing or emerging State Governor's Councils or community Coalitions with technical expertise in these areas:
Creating Healthy Communities
Leadership
How to Start a State Council Toolkit
Capacity building
Advocacy
Media relations
Programming interventions
Sustainability / Resource development
NAHF Membership Options
Governors' Councils & State Coalitions Membership ($175)
Open only to Governors' Councils and State wide Coalitions
Corporate / Business Membership ($140)
Open to private sector organizations
Non-Profit / Public Sector Membership ($100)
Open to Non-Profit and/or Public Sector organizations
Individual Membership ($50)
Open to persons interested in promoting health & physical activity
For more information contact Diane H. Hart, NAHF President, at 518-456-1058 or aerobic2@aol.com.
---
Have you purchased a product/service or taken a course from this organization?
We like to ensure that our partners provide you with the same experiences you would come to expect from MFN. Contact us and tell us about your experience.​​