ABOUT US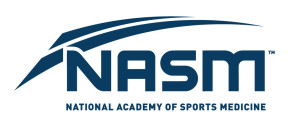 Since 1987, the National Academy of Sports Medicine (NASM) has been the global leader in delivering evidence-based certifications and advanced specializations to health and fitness professionals. Our products and services are scientifically and clinically proven. They are revered and utilized by leading trainers, brands and programs around the world and have launched thousands of successful careers.
The industry leader – the NASM Certified Personal Trainer (NASM-CPT) credential is one of the most respected personal training certifications in the health and fitness industry. We first garnered attention by pioneering the exclusive Optimum Performance TrainingTM (OPTTM) model – the first science based training system in the industry.
In addition to our CPT certification, NASM offers a progressive career track with access to advanced specializations, continuing education courses, and accredited Bachelor and Master Degree programs. The vision of NASM is to empower fitness and wellness professionals, supporting them in their goal of motivating clients to lead healthier lives.
NASM is part of Ascend Learning, a global leader in providing technology-based education and certification solutions.
Visit our website, nasm.org
FOR MFN MEMBERS
MFN professional members receive 20% off NASM-CPT and specializations.
ABOUT OUR COMPANY

For more than 30 years, the National Academy of Sports Medicine (NASM) has set the standard in certification, continuing education, solutions and tools for health and fitness, sports performance and sports medicine professionals. NASM has pioneered evidence-based health and fitness solutions that optimize physical performance and allow individuals to achieve a variety of fitness activity goals.
Today, NASM serves thousands worldwide and positively impacts the lives of millions of people the world over. As the world's foremost resource for health and fitness information, the organization continues to elevate its industry best practices by providing outstanding programs and quality certification courses for its members. nasm.org/about-us/history
PRODUCTS & SERVICES
MEDICAL FITNESS COURSES
NASM offers the following continuing education related to aging, senior fitness, chronic disease, medical condition, and pre or postnatal care:
Corrective Exercise Specialization
Corrective Exercise Workshop
Fitness Nutrition Specialization
Senior Fitness Specialization
Behavior Change Specialization
Women's Fitness Specialization
---
Have you purchased a product/service or taken a course from this organization?
We like to ensure that our partners provide you with the same experiences you would come to expect from MFN. Contact us and tell us about your experience.​​