On January 18th, 2017 Rudy Gay, forward for the Sacramento Kings, drove the baseline against the Pacers and crumbled to the floor without being touched. He didn't get up and was carried off the court. Gay had torn his Achilles tendon, a devastating injury for a pro, and really bad news for any athlete.
This is a common injury that I see in basketball players and many other athletes involved in sports that require explosive movements. A ruptured Achilles tendon has ended the career of many NBA players, but Gay is determined that with surgery and rehab he can get back on the court. And that's the route most people suffering this injury face – a slow road to recovery.
The Achilles tendon is the largest tendon in the body and controls the movement of the foot, so it is used when a person walks, runs or jumps. That tendon, named after the mythical Greek hero Achilles who was only vulnerable in the heel, attaches the calf muscle and the heel bone. It can endure a significant amount of stress and pressure, but at times explosive movements can tear or strain the tendon.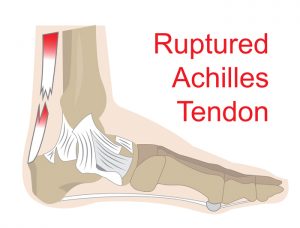 There are two main forms of Achilles injuries, a ruptures Achilles tendon or Achilles tendonitis. A ruptured Achilles tendon is the worse of the two injuries and is what Gay is suffering from. This is a separation or tear of the fibers in the tendon.
Sometimes a rupture comes after a person experienced tendonitis, which weakens the tendon. So non-athletes can suffer an Achilles tendon tear. Many patients describe hearing and feeling a pop in their heel during rupture. This is followed by pain and loss of function in the foot.
Treatment and rehab of an Achilles tendon tear
Surgery is the preferred treatment option by most doctors and patients, although nonsurgical options have recently gained attention. No matter what treatment repairs a ruptured Achilles tendon, there will be a long healing process requiring rehabilitation.
Nonsurgical treatments include immobilization of the ankle, platelet rich plasma (PRP) injections or stem cell therapy. Immobilization requires wearing a boot or brace that limits movement, protecting the tendon while it is healing. PRP injections uses the patient's own blood to aid in the healing process and reduce pain in damaged tendons or cartilage. Stem cell therapy injects stem cells into the damaged tendon to initiate healthy cell growth and decrease pain.
Nonsurgical treatments are more commonly used for patients who are medically unstable, older or inactive. The recovery time tends to be much longer than with surgery, and the chance of re-injuring the tendon increases. This is why I tend to lean away from nonsurgical options for my patients, especially for active individuals.
Surgery is the preferred treatment option for a ruptured Achilles tendon with many orthopedic surgeons. A surgery will typically include making an incision on the back of the heel and sewing the tendon back together with a nonabsorbable suture.
Surgery can also be performed with minimally invasive techniques. This allows for a small incision and the use of a small camera giving the surgeon an excellent view when sewing the tendon back together. This leads to a faster recovery, and is the treatment I most often perform after explaining all options with my patients.
Rehabilitation will be needed regardless of the type of treatment. Physical therapy rehabilitation assists with improving the strength of the tendon and restoring functionality.
Gay tweeted, "I will not take rehab lightly. I will work hard and consistently." This is a great mentality to have when recovering from an injury.
If you or a loved one has an Achilles tendon injury, it is important to know it is serious and should not be taken lightly. It is vital to meet with an orthopedic specialist right away and discuss the best treatment option for you.
I hope Gay's Achilles tendon injury does not end his career and I look forward to seeing him back on the court in 2018. If all goes according to plan, the 30-year-old should be able to return to activity after six months, and with rehabilitation, he should be fully recovered after a year.
---
Dr. Joseph X. Kou is an orthopedic surgeon specializing in foot and ankle surgeries at Muir Orthopaedic Specialist in Walnut Creek, California. Dr. Kou provides state-of-the-art orthopedic care in a compassionate and efficient fashion. If you are interested in learning more about Dr. Kou or Muir Orthopaedic Specialists, visit them online at muirortho.com or by calling 925-939-8585.