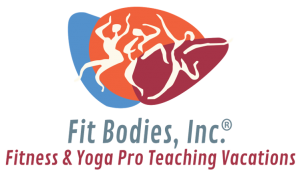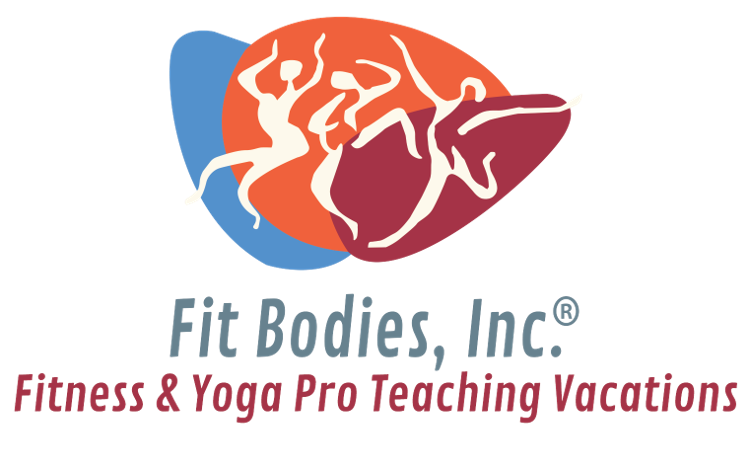 ABOUT US
We are the creators of the "teaching vacation" where fitness professionals in Yoga, Pilates, Group Fitness, Personal Training, Tennis and Golf pros can travel to all-inclusive resorts around the world for a fraction of the normal cost. We have been teaching and traveling this way for the past 30 years!
Learn more at our website, FitnessProTravel.com
FOR MFN MEMBERS
Fit Bodies is offering MFN members 15% off your first teaching vacation!
Offers expire 12/31/2022. Discount codes cannot be used with other discount offers.
TAKE A TEACHING VACATION!
What's a teaching vacation? Share your passion for yoga, group fitness, Zumba, tennis, personal training or other sporting modalities with RESORT GUESTS! And the best part is, YOU BECOME A RESORT GUEST! It's the most economical way for take luxury, all-inclusive resort vacation in the tropics.
YOU CHOOSE WHEN
YOU CHOOSE WHERE
COMPANIONS INCLUDED
ABOUT THE TEACHING VACATION PROGRAM
Fit Bodies, Inc. is the largest teaching vacation organization in the world. As a booking agency, Fit Bodies, Inc. places fitness, yoga and sport professionals at luxury resort facilities for vacation enjoyed while teaching classes to resort guests. Fit Bodies, Inc. offers resorts qualified, certified, educated fitness and other specialized professionals to teach and train at resort facilities as independent contractors with Fit Bodies, Inc. In operation since 1992, and to date have scheduled more than 60,000 trips and 500,000+ classes to resort guests globally to over 8 different countries in the Caribbean and beyond.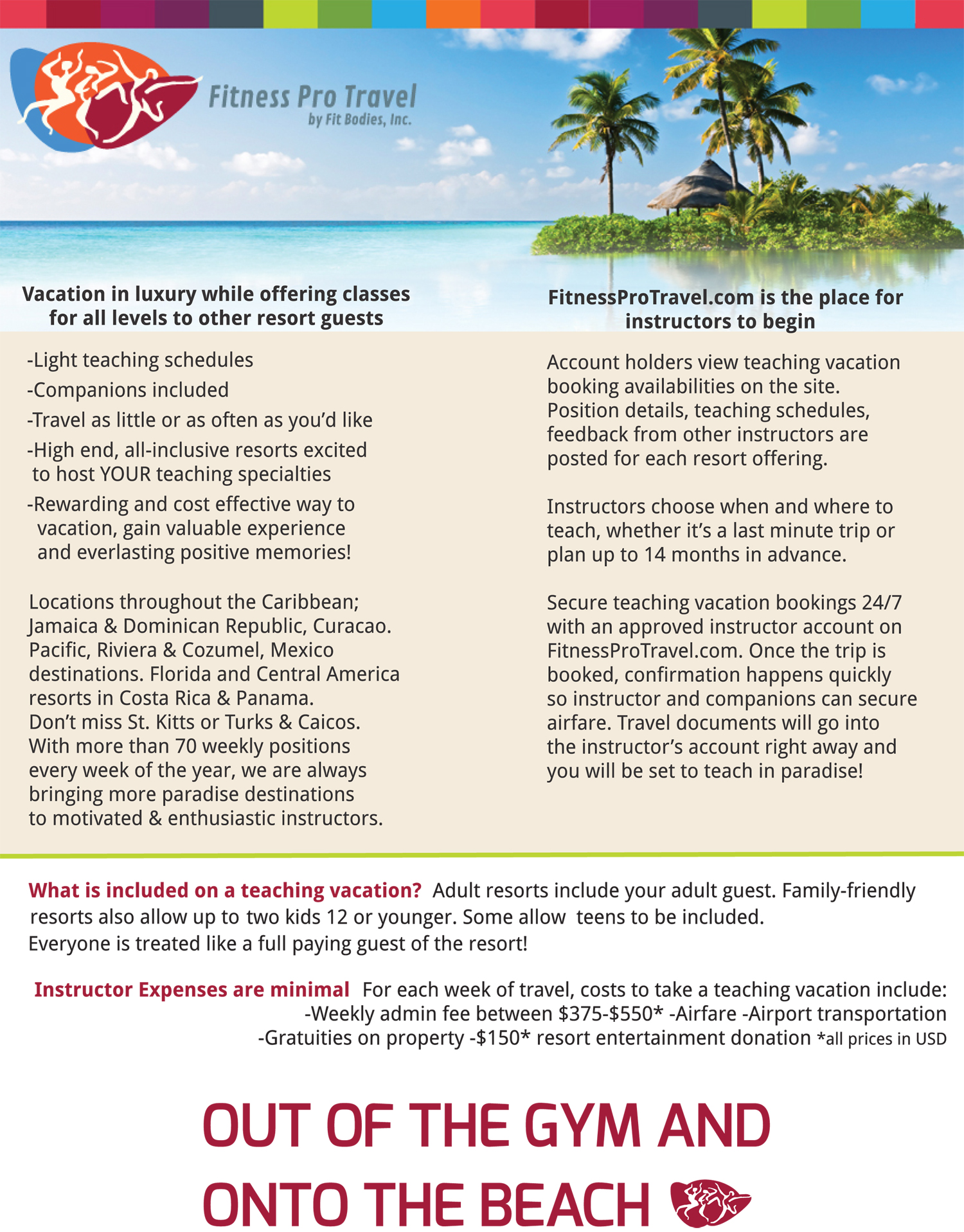 ---
CONTACT US
Web: FitnessProTravel.com
Email: info@fitbodiesinc.com
Phone: (800) 599-9316
Social media: @fitbodiesinc on twitter, instagram and facebook
TESTIMONIALS
"Teaching Yoga and cardio classes on the beach was an amazing experience. I taught participants from 7 different countries!"
"I had a great experience with the very professional and FUN staff at Secrets Playas Mujeres. I taught a bootcamp at 9am each day. I had around 4-12 participants. Loved this experience and really enjoyed meeting the guests."
---
Have you purchased a product/service or taken a course from this organization? We like to ensure that our partners provide you with the same experiences you would come to expect from MFN. Contact us and tell us about your experience. ​