Dry rubs are my "thing!" I love the deep flavor and crispy crust that dried herbs and spices impart. Dry rubs are any combination of dried herbs, spices, sugar, and salt that you like. Jerk celebrates the flavors of the Carribean and is generally very spicy, with the use of the native Carribean chili, the scotch bonnet. I used cayenne and a mild chili powder blend here, but if you can find dried scotch bonnet, you'll truely transport your guests to Jamaica. Hang on to your extra rub, chef's! This recipe makes enough for two to three recipes.
Dry Rub
3 tsp dark brown sugar or coconut palm sugar
2 tsps each, allspice, thyme, ground ginger, granulated garlic,
1 1/2 tsps each, chili powder blend (or Scotch Bonnet), salt
1 tsp each, cinnamon, paprika, black pepper, cayenne
1/2 tsp ground cloves
Measure everything into a small mixing bowl, or jar. Mix all dry herbs and spices together using a whisk, or put a lid on your jar and shake it! (a little Zumba music, please!) Be sure to label and date the jar.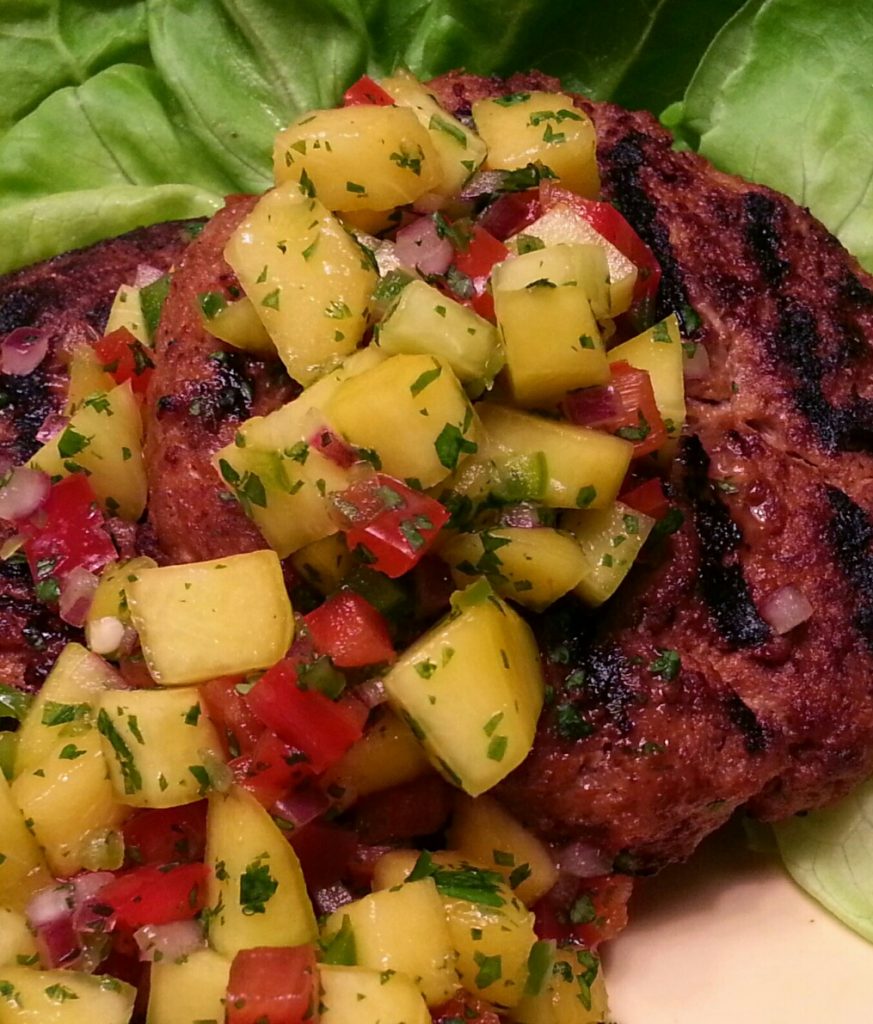 Turkey Burgers
1 1/4 lb ground Turkey
2 Tbls Tomato paste
1 1/2 Tbls Jerk rub
extra Jerk rub to season burgers while cooking
Mix all ingredients together. Please don't over-handle the meat, this makes a tough burger. Form four patties. Put a dimple in the center of each pattie. Sprinkle with a little extra rub on both sides, and grill over medium-high heat, four minutes each side. Rest 3-5 minutes before service.
Tasty tip: Turkey Burgers have a reputation for being dry. This is due to the leanness of the meat, naturally. Slice Oranges into 1/4" slices. Make a "bed" for your burgers, and grill on the moist fruit slices. Finish directly on the grill to create that irresistible Jerk rub crust.
Peach Salsa
This bright fruit salsa will compliment many of your family favorites. Serving fruit with meat is an age old practice, as the enzymes in the fruit help break down animal proteins. The classic pork with pineapple is a great example of this principle. I like the cool peach flavor, against the very spicy jerk seasoning. The hot off the grill spicy turkey burger served on tender butter lettuce, and topped with the cool peach salsa…now that's a summer burger!
3 Peaches, peeled, and small dice
1/2 Red Bell Pepper, small dice
1 small Jalepeno, seeded and minced
3 Tbls Purple Onion, minced
2 Tbls Cilantro, remove stems, chop fine
Juice of 1 Lime
2 tsps Honey
1/2 tsp Salt
Gently toss all prepped ingredients, and chill until service.
Turkey Burger Phyto Facts
Turkey is packed with minerals, especially Selenium and Zinc. As we've talked about before, Selenium is at the top of the cancer-fighting list. It is also considered a longevity nutrient, as it slows the aging clock. Zinc acts as a catalyst in our bodies: every time we eat foods high in Zinc, our bodies produce a very powerful antioxidant called Super Oxide Dismutase. This is why Zinc has a reputation for building immune system response. It's really the S.O.D. we create, after ingesting Zinc.
Skinless Turkey is one of the best ways to prevent pancreatic cancer, providing the Turkey has been raised organically, and is pasture fed. This amazing protein source helps us burn body fat, and induces deeper sleep.
Turkey also has a very favorable ratio of Omega-6 to Omega-3. We always want higher Omega-3; Omega-6 is healthy, but too much, and it can cause malignant tumor growth.
All of the spices and herbs used contain medicine too. After all, the medicines we're familiar with every day came from herbs. Cinnamon and Allspice are Mother Nature's antibiotics, they stabilize blood sugar, and lower blood pressure. Chilis open the arteries and are anti-inflammatory. Thyme brings a woman's menses down, and eases hormonal discomforts. Black pepper cleanses the liver. As you can see, all of nature's gifts have health benefits when used properly.
Another nutrient is in the tomato paste. This is one of the most concentrated forms of Lycopene because tomato paste is cooked down to such a strong concentration. Two tablespoons of organic tomato paste per day is a great preventative measure against prostate cancer. Please be mindful of the acid. We don't want to create an imbalance in our digestive tract.
Peach Salsa Phyto Facts
Yellow peaches contain Beta-Carotene which the body uses to make vitamin A. This kind of vitamin A is skin repair, reduction in sun damage, cancer prevention, and an immune booster. The honey is nature's moisture magnet: these two together are some of the best skincare we can eat! The bell pepper also contains those valuable carotenoids, high in vitamin A and C, they help us repair tissue damage, and move fresh oxygen out to the cells efficiently.  Cilantro contains Apiginin, this offers protection against Ovarian cancer, as well as being high in Chlorophyll. The green in plants refreshes the bodily systems, repairs damaged cells, and assists in the carrying of oxygen. This is effective Delicious Medicine to eat, if you felt a summer cold coming on.
---
Affectionately referred to as The Walking Encyclopedia of Human Wellness, Fitness Coach, Strength Competitor and Powerlifting pioneer, Tina "The Medicine Chef" Martini is an internationally recognized Naturopathic Chef and star of the cooking show, Tina's Ageless Kitchen. Tina's cooking and lifestyle show has reached millions of food and fitness lovers all over the globe. Over the last 30 years, Tina has assisted celebrities, gold-medal athletes and over-scheduled executives naturally achieve radiant health using The Pyramid of Power: balancing Healthy Nutrition and the healing power of food, with Active Fitness and Body Alignment techniques. Working with those who have late-stage cancer, advanced diabetes, cardiovascular and other illnesses, Tina's clients are astounded at the ease and speed with which they are able to restore their radiant health. Tina believes that maintaining balance in our diet, physical activity, and in our work and spiritual life is the key to our good health, happiness and overall well being. Visit her website, themedicinechef.com