The fresh, herbacious flavor of the original Green Goddess dressing inspired a Southwest version I used for my cafe menu. Today, it remains a client favorite. Perfect for a veggie platter and grilled seafood. The dressing is pictured here on a Southwest Caesar with grilled Mahi.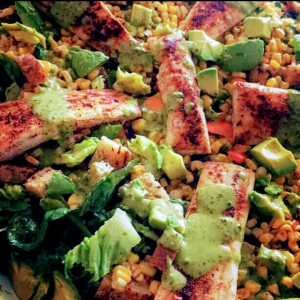 Summertime is the season for fresh herbs. If you don't like cilantro, flat-leaf parsley works well.
Dressing
¾ c Grapeseed Oil Mayo
¼ c Grapeseed Oil
1 clove Garlic, peeled, trimmed, and smashed
2 Tbls Pumpkin Seeds
2 Tbls Red Wine Vinegar
2 Tbls Cotija Cheese
1 freshly roasted Anaheim Chili, peeled and seeded, or two tablespoons of canned mild chilies
1 bunch Cilantro, cleaned and stemmed
½ tsp each Salt and Pepper (Cotija Cheese is salty, be sure to taste along the way)
Place all ingredients up to cilantro into a blender. Process until smooth. Add cilantro in thirds to keep the bright color. Over-processing heats the dressing and can cause the herbs to lose their vibrancy.
Phyte Facts
You may read negative commentary about Grapeseed oil. It is high in polyunsaturated fats making it susceptible to over oxidization. In other words: don't deep fry with Grapeseed oil. However, cold-pressed GSO is beneficial due to a very little known polyunsaturated fact. When the PUFAs are ingested, our immune function goes to sleep for a short period (I know this sounds bad but…) this allows a very special heart mending action to take place. Once the "work" is done, our immune function wakes up and everything resumes. GSO also assists in the removal of plaque built up in the arteries. It's higher in vitamin E, than Olive Oil, and binds the water we drink to our tissue keeping us thoroughly hydrated.
All veggie oils are processed and should be kept to a minimum. A little goes a long way!
The remainder of the ingredients are definitely Delicious Medicine, with Cilantro heading up the foods with phyte. Apigenin will someday be the cure for Ovarian Cancer, says Harvard School of Medicine. This phytonutrient is also a major player in the reduction of inflammation and anti-aging science.
---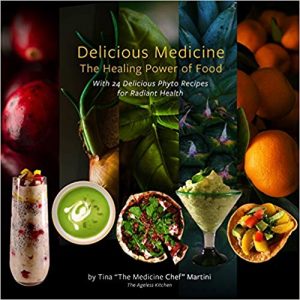 Get more great recipes from Tina Martini — her book, Delicious Medicine: The Healing Power of Food is available to purchase on Amazon. More than a cookbook, combining 20+ years of experience, along with her love of coaching, cooking and teaching, Tina offers unexpected insights into the history and healing power of clean eating, along with recipes to help reduce your risk of disease and improve overall wellness so you can enjoy life!
Affectionately referred to as The Walking Encyclopedia of Human Wellness, Fitness Coach, Strength Competitor and Powerlifting pioneer, Tina "The Medicine Chef" Martini is an internationally recognized Naturopathic Chef and star of the cooking show, Tina's Ageless Kitchen. Tina's cooking and lifestyle show has reached millions of food and fitness lovers all over the globe. Over the last 30 years, Tina has assisted celebrities, gold-medal athletes and over-scheduled executives naturally achieve radiant health using The Pyramid of Power: balancing Healthy Nutrition and the healing power of food, with Active Fitness and Body Alignment techniques. Working with those who have late-stage cancer, advanced diabetes, cardiovascular and other illnesses, Tina's clients are astounded at the ease and speed with which they are able to restore their radiant health. Tina believes that maintaining balance in our diet, physical activity, and in our work and spiritual life is the key to our good health, happiness and overall well being. Visit her website, themedicinechef.com