We've made my gluten free (GF) pizza crust with our favorite Italian flavors. Now, we're heading to the Far East for a flavor explosion and some serious Delicious Medicine. The best news on this fantastic flavor journey; no oven required. Put your frozen Gf crust right on the grill. 
Thai Inspired Crust
1-1 1/2  Cup gluten free Thai Beer room temp, add slowly (I use Singha) 

2 tsps Agave or sweetener of your choice

2 tsps Dry Yeast                                 

3 cups GF all-purpose flour

2 tsps Non-Aluminum Baking Powder

2 tsps Ground Flaxseed

2 tsps Salt

2 1/2 tsps Baking Powder

1/4 cup Sesame Oil *plus 1 Tbls for proofing bowl

1 Tbls Chia Seeds, bloomed in 1/4 cup water

1 Tbls Toasted Sesame Seeds 

Cornmeal for your second kneading (optional)
Pour one cup beer into the bowl of your stand mixer or large mixing bowl. Stir in Agave or sweetener of your choice. Sprinkle yeast over top and allow to bloom.
Place paddle attachment on mixer and start on first speed position. Slowly add flour and remaining ingredients, working all ingredients together. Add more beer as necessary to bring dough together.
Change paddle attachment to your dough hook. Knead dough for about six minutes or until smooth and dough will stretch without breaking. The dough should be plump and slightly sticky. Oil clean bowl with remaining sesame oil and roll dough ball over in bowl to coat completely. Cover with damp kitchen towel or plastic wrap and place in the warmest area of your house until dough has doubled, approximately one hour.
Uncover and punch down dough, divide in half and knead with a little bit of cornmeal on your counter. Roll out, place on pizza stone or sheet pan and bake 8 minutes. Pull from oven top, continue to bake for 15 minutes and serve. Or, cool, wrap and freeze. 
Peanut Pizza Sauce
3 Tbls Coconut Milk

 1/2 cup Creamy Peanut Butter

3 Tbls Rice Vinegar

3 Tbls Tamari or Soy Sauce

2 Tbls Honey

1 Tbls ketchup

2 cloves Garlic, minced

2 tsps Ginger, peeled and grated

pinch Red Pepper Flakes

Pinch White Pepper
Whisk everything together and use as your pizza sauce or sauce for a noodle bowl or salad. 
Putting it All Together
You've par-baked your crust, your sauce is ready and now for the other toppings ideas:
Mozzarella Cheese

Shredded Carrot

Shredded Purple Cabbage

Thinly sliced Purple Onion

Mung Bean Sprouts

Crusted Peanuts, Dry Roasted

Cilantro Leaves 

A few drops of Toasted Sesame Oil 

Roast Chicken or Duck is amazing on this pizza, dice or slice thinly

For a vegan option use Seitan or Tempeh be sure to toss your protein of choice with a little of your peanut sauce. 
Phyte Facts
Peanuts are one of the best sources of the phytonutrient, Resveratrol. Who doesn't love burning body fat while eating a delicious pizza? That's what Resveratrol does for us. This sauce is not only delicious on just about anything: it's loaded with Delicious Medicine, too! 
---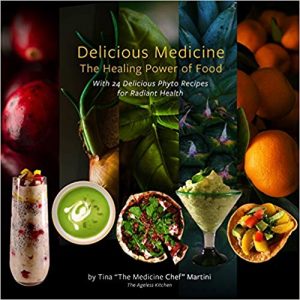 Get more great recipes from Tina Martini — her book, Delicious Medicine: The Healing Power of Food is available to purchase on Amazon. More than a cookbook, combining 20+ years of experience, along with her love of coaching, cooking and teaching, Tina offers unexpected insights into the history and healing power of clean eating, along with recipes to help reduce your risk of disease and improve overall wellness so you can enjoy life!
Affectionately referred to as The Walking Encyclopedia of Human Wellness, Fitness Coach, Strength Competitor and Powerlifting pioneer, Tina "The Medicine Chef" Martini is an internationally recognized Naturopathic Chef and star of the cooking show, Tina's Ageless Kitchen. Tina's cooking and lifestyle show has reached millions of food and fitness lovers all over the globe. Over the last 30 years, Tina has assisted celebrities, gold-medal athletes and over-scheduled executives naturally achieve radiant health using The Pyramid of Power: balancing Healthy Nutrition and the healing power of food, with Active Fitness and Body Alignment techniques. Working with those who have late-stage cancer, advanced diabetes, cardiovascular and other illnesses, Tina's clients are astounded at the ease and speed with which they are able to restore their radiant health. Tina believes that maintaining balance in our diet, physical activity, and in our work and spiritual life is the key to our good health, happiness and overall well being. Visit her website, themedicinechef.com