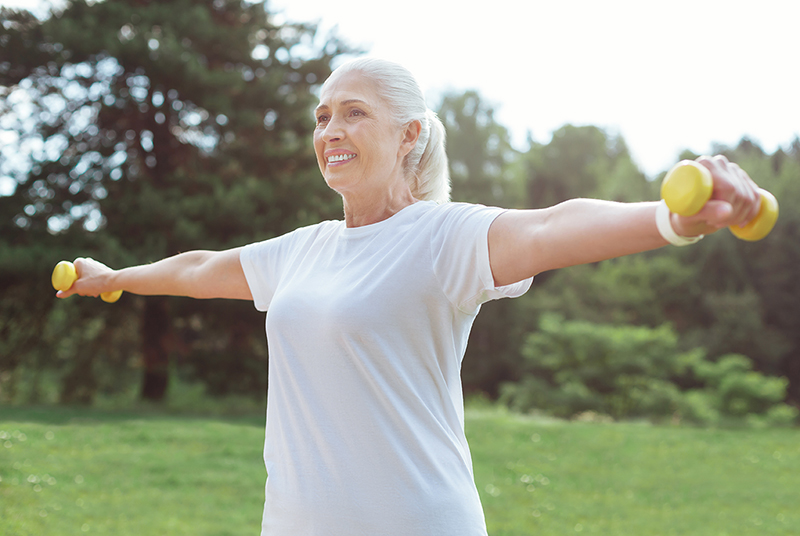 An important principle that has emerged throughout my writing on "healthy aging" has been the issue of fitness and the role being fit plays in preventing illness and injury, yielding a fulfilling and vibrant life – a "life well lived". The point of healthy aging is to be in a position as we grow older "to do what we want when we want without getting hurt". I have always believed that my level of fitness would yield positive results as I got older emotionally, physically, mentally and spiritually – and so far I have been proven right in my own life. The "fitness lifestyle" is a consciousness issue just as healthy aging is as well. I make choices everyday that are designed to enhance my ability to live the way I choose. This always includes high intensity, focused training which will (hopefully) prepare me for the challenging years ahead.
Speaking, traveling, teaching, program design, consulting, writing and other activities that I wish to do in my future will require focus, high energy, inspiration, imagination, and physical stamina and endurance. The ability to train the way I am now will translate into the future actions that will yield the result I envision for audiences in the years ahead. Planning for a future that requires me to be prepared to do my work at a high level will also demand that I be as fit as I can be in order to give me the strength to help as many people as I possibly can – while I can. This is my mission – and my purpose.
This article is about something I think about EVERY day. Each of my actions, decisions, and thoughts are applied to the outcome that I seek with every step I take in becoming stronger, faster, quicker, more powerful, balanced, imaginative, flexible and skilled. My purpose is to be able to PERFORM at a high level even as I approach my 70's and this is the point of my plan – and these articles in this series. How fit are you today for the future you envision for yourself? Does your vision inspire you to reach beyond your grasp? Does it "pull you forward" so that you will take the actions necessary to enable and empower you for the journey ahead? Only you can answer this question! Do it now!
Power, speed, quickness, strength, endurance, balance & flexibility:  the "core" of healthy aging and growing old – not old.
I think of training in terms of performance and so much of fitness today is "gimmicks" – programs designed for the "few" in America who are NOT the obese, overweight, poorly trained, seniors, and youth. The "fatting" of America does NOT include practical programming on TV, the internet – or anywhere for that matter – that appeals to the average, untrained individual struggling just to live a 'moderately' happy life. I see this huge "hole" in our society everyday when I go out into the world where the "connection" between being fit and "regular" people is NEVER being made. To most of the world, fitness – or becoming fit – means acquiring a gym membership with all the "hassles" that implies and THAT isn't healthy or inspiring at ALL!
I worked in the Nautilus and Bally's systems as a trainer for over ten years and I never once saw the effort being truly made to help people "realistically" ACHIEVE anything. The world outside the gym is a giant "blank" for over two thirds of the population. The only thing I see that is visible today is elementary lifestyle "advice" on Dr. Oz and other related sophomoric network shows that really change nothing. The other major factor in the sales "pitch" to America on fitness comes in the form of "infomercials" that literally "sucker" people into buying USELESS stuff that will never really help them – EVER! The latest gimmick is the "abdominal belt" that will 'melt" fat away with just 10 minutes a day! This is just the latest in the same old scam – "sell them anything and make a buck in the process!" What a disgrace and a shame that we have resorted to "hucksterism" in this country in order to sell the virtues of being fit! Jack Lalanne's legacy has almost been completely forgotten today and I want to make sure I play my role in carrying the work he started so long ago forward with me. At least he TAUGHT simple exercises to people of all ages in the 50's and 60's with passion AND led them every step of the way during his shows. Those days are long gone!
When we think of helping people to become fit and healthy, we must always remember to train ourselves FIRST so that we can inspire others to do the same. I will not TELL anyone anything because for each of us our understanding and perspectives are different – just as each of us is different. I will always side with "being the example of the change I wish to see in the world" – the theme of my first article in this series. How do I retain my skill level with the "seven keys" of fitness highlighted above? I maintain them – and will elevate myself to higher levels of performance in the future – through my weekly weight training program, running 40 to 50 miles a week, stretching, and meditation. This dedication to fitness will hopefully allow me to do what I want, when I want, without injury and live with joy the active future of service I am envisioning for myself. I believe that with each passing day we are ALL falling 'behind the fitness curve' in life – whether we are training or not – and it is imperative that we translate our passion for being fit to others through our example. If we CAN'T DO IT, WE SHOULDN'T BE TEACHING IT!
Conclusion
My primary commitment to myself each day is to NEVER GIVE UP. If I am not sick or injured, I am training – training for my life to come and the role I have chosen for myself as "an agent of change in the world". Each of us MUST decide what it is WE STAND FOR so that others can be inspired by our example. Jack LaLanne taught me through his example – as John Wooden did – that it is WHO WE ARE on the inside that will be the 'key' to inspiring and encouraging others to reach beyond their current grasp and strive for more than they ever dreamed possible. I am convinced every day by what I see in the world that what we have to offer the 'many' is desperately needed now more than ever. If we do not take up this challenge, who will? When will the REAL change come? It will only come when we change ourselves (on the inside – healthy aging is an inside job, remember?) and that is the greatest challenge that we will ALL face in life. It is worth fighting for this principle every day of our lives. Will you take it upon yourself TODAY and join me in this "journey of change" – and touch millions of lives in the process? I hope your answer is a resounding YES!
Article reprinted with permission from Nicholas Prukop. 
---
Nicholas Prukop is an ACE Certified Personal Trainer & a Health Coach, a fitness professional with over 25 years of experience whose passion for health and fitness comes from his boyhood in Hawaii where he grew up a swimmer on Maui. He found his calling in writing his first book "Healthy Aging & You: Your Journey to Becoming Happy, Healthy & Fit" and since then he has dedicated himself to empowering, inspiring and enabling people of all ages to reach for the best that is within them and become who they are meant to be – happy, healthy and fit – and be a part of a world where each person can contribute their own unique gifts to life.