There are special and unique bonds that are made between clinician and patient in a rehabilitation setting. Many times, rehab patients are at a very difficult time in their lives and through months of daily expert guidance, hard work, education, and often even fun, alongside their rehab team, they make considerable gains back towards independence.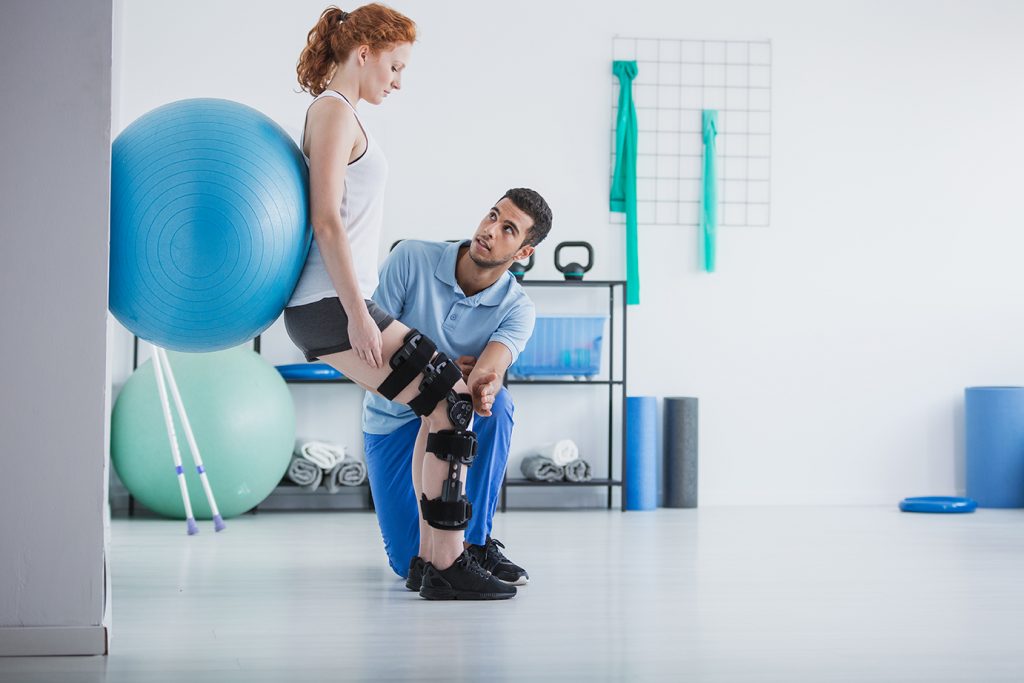 Because of this daily interaction, the rehab team develops a vested interest in the continued progress of their patient. Over the course of many months of the blood, sweat and tears of intensive therapy sessions, a friendship has been formed and considerable progress made together. It's no wonder that rehab professionals are very selective with the fitness referrals they make once their patients are ready for the post-rehab world.
They are selective because they want the absolute best for their patient; they want someone with an understanding of their patient's diagnosis; someone who understands medical precautions and contraindications; and someone who can safely continue to progress their patient without putting them at risk for a secondary issue. Though they may be selective with referrals, a trusted source for continuing their patients' goals is needed.
Here are some ways to bridge the gap and gain the trust of your local rehabilitation professionals:
Require a medical or physical therapy release
Having medical releases before beginning ongoing sessions is an excellent way to open dialog with your client's doctor or physical therapist and further, ensures that you are programming their fitness plan accordingly. Send your assessment with your client to share in their next appointment along with a simple inquiry form about restrictions or suggestions to use in your program design. This will go a long way in establishing a great level of trust and building a rapport with the clinic.
Volunteer at a rehab clinic
One of the best ways to build a rapport with local rehab professionals and patients is to spend time shadowing/observing or volunteering in a rehab inpatient and/or outpatient clinic. This can be a time-consuming start-up as many rehab clinics will have an orientation process and procedures to allow you to be present in a clinic, but it is definitely worth the time investment. Just being in this environment you can learn a lot about how therapists progress their rehab patients, guard their rehab patients during activity, interact with and educate their patients as they progress them to discharge (the point where you would continue their work). You may also get some valuable opportunities to learn from and build relationships with many therapists in one setting.
Lead warm-ups for local 5K races
There are 3.2-mile run-walk-and-wheels events that take place all over the country. Donating your time to your community Spina Bifida Walk 'n Roll or Parkinson's walk is a great way to become visible in your community and demonstrate what you have to offer for all abilities.
Speak at local support groups
Same as with the 5Ks, there are support groups that take place monthly or quarterly for stroke survivors, caregivers, individuals living with Multiple Sclerosis and more. Contacting the organizer of these groups and offering to donate time to speak about the benefits of continued exercise or even providing a no-cost group class during the scheduled talk time is a really good way to connect with both the organizers and their peers and those in attendance who would benefit from a continued exercise program.
Educate yourself on adaptive/medical exercise equipment
Understanding the different options there are for accessories and actual exercise equipment for stroke survivors or those living with spinal cord injury is another great way to demonstrate an understanding of working with a rehab population and continuing to bridge the gap between rehab and fitness. Not all equipment is accessible nor safe, so while thinking outside the box is great, ensuring safety is optimal. Take the time to learn about all the great adaptive equipment that can benefit the population you work with.
Host an open house at your gym
Host regular open house events at your facility and invite any and all rehab professionals, patients, and people from your community. Offer instructional sessions during the open house to demonstrate your adaptive programming/equipment. This is a great way give a sneak peek into what you're doing to provide a safe environment for patients to continue their progress.
Offer to provide a lunch in-service to rehab staff
Meeting with a clinic full of therapists is an excellent way to educate those therapists that you have done your research, understand your population, and really want to bridge the gap between rehab and fitness. A presentation focused on the population you're most comfortable working with (Parkinson's, stroke survivors, etc.), the programs you offer, and pictures or videos of some of the work done in your gym. Bringing food is always a great incentive!
Bridging the gap between rehab and fitness is a process that is long overdue and much needed. By focusing on the points above you will be working towards and moving one step closer to improving the therapist-trainer model, adding a valuable resource to your community and providing a safe environment and safe programming to continue progressing your post-rehab clients.
This article was featured in MedFit Professional Magazine. Access past issues or subscribe to read more great content like this!

---
Devon Palermo is a leading authority on Adaptive Fitness for those living with or recovering from a disability. He is the Founder and Principal director of DPI Adaptive Fitness, A company focused on safe and effective adaptive fitness for individuals living with disabilities. With over 15 years of experience in both fitness and rehab, He is the go-to resource for clients, therapists, and doctors in the DC, Maryland and Virginia area looking to maximize the benefits of adaptive exercise to improve strength, balance, function and abilities. dpiadaptivefitness.co