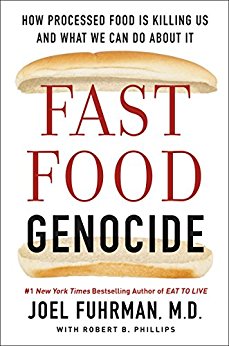 In his latest book, Fast Food Genocide, Dr. Fuhrman details the shocking role diet has played in derailing the American dream for large segments of our population. He explains how these foods destroy not only our physical health, leading to cancer, diabetes, obesity, and heart disease — he also explores the previously overlooked association of diet's influence on behavior, emotional health and intellect. The fast and processed food industries keep people hooked on their unhealthy, highly addictive products and that has led to a national health crisis. This tragic and far-reaching epidemic of inferior nutrition can be turned around, and Dr. Fuhrman offers hope, explaining the powerful way a Nutritarian Diet can solve what has become a national health crisis. It is an eye-opening book all of us need to read and share with our friends. Below, Dr. Fuhrman answers what motivated him to write this book and some of the questions surrounding it.
How Can Fast Food Be Genocide?
Genocide — the deliberate destruction of a population — is the most accurate way to describe fast food's devastating effects on our society. Processed, nutrient-barren products are designed by the food industry to be highly addictive, cheap to produce, and highly profitable. These products do not contain the nutrients humans need to thrive, and in those using them as a primary food source, it has created an explosion of disease, much suffering and death. Fast food and processed foods also damage our genes, which we pass on to our children and grandchildren, and we are seeing dangerous increases in autism, learning disabilities, allergies, autoimmune disease and childhood cancer. This must be stopped.
Which Foods Are The Most Dangerous?
I define fast food in two ways: First, it is the food served at commercial chain restaurants, where processed meats, pizza, burgers, French fries, pretzels, soft drinks, and rich desserts are made in an assembly-line process, with commercial ingredients that are duplicated and dispersed all over the world. Second, it is any commercially-made convenience food that includes artificial ingredients, processed grains, sweeteners, salt, and oil, all with high-caloric concentration and minimal nutrient content. These foods have now become the majority of calories consumed in America.
Why Are These Foods So Damaging to Our Health?
A person who eats fast food, fried food and processed food has an increased risk of cancer, obesity, diabetes, autoimmune disease, depression, and mental illness. Even moderate use of fast food is dangerous. For example, one serving of commercial French fries per week is linked to an over 25 percent increase in risk of developing breast cancer. The World Health Organization has declared that processed meats are a class 1 carcinogen in humans, which places them in the same category as asbestos and cigarette smoking. Fake food produces cancer-promoting signals, damages blood vessel and builds plaque. The food is most often high in calories and fattening. Weight gain has its own dangerous consequences. Body fat produces pro-inflammatory signals, raises blood pressure, drives insulin resistance and secretes growth signals that promote cancer.
How Does Fast Food Contribute to Depression and Mental Illness?
The scope of the effects of fast food on the brain is not yet known, but based on what we know so far, we greatly underestimate these effects, especially the effects on the brains of children. A single episode of elevated blood sugar has been shown to have negative effects on attention and memory. Eating commercial baked goods and fast food is primary causative factor in mental illness and major depression, and brain imaging studies have suggested that elevated blood sugar impairs the brain's ability to process emotion. For young children, fast food, candy and soda consumption are linked to behavior and attention problems, and depression and suicide in teens. Mental illness now affects one in five in America, and our poor diet is at the foundation of this epidemic.
Why Isn't This Information More Widely Known?
Some reasons why we are ignoring the devastating health crisis that is right before our eyes is that; we believe food industry propaganda and easily misled by conflicting information; we develop a desire for become addicted to these toxic foods; and we believe in the heavily promoted dogma that modern medical care can save us from nutritional-induced tragedies.
Food companies have discovered how to feed the most people in the most efficient and cost-effective manner to maximize profits. While the marketing spin promotes moderate consumption as safe, and encouraged by social norms. Scientific studies demonstrate otherwise.
REGISTER for Dr. Fuhrman's upcoming webinar on this topic, Fast Food Genocide: How Processed Food Are Killing Us and What We Can Do About It. Watch live or recorded! Register now >
---
Joel Fuhrman, M.D.Dr. Fuhrman is a board-certified family physician specializing in nutritional medicine. He is President of the Nutritional Research Foundation and the author of 6 NY Times bestselling books, including The End of Heart Disease.  Visit him at DrFuhrman.com