If you have arthritis but want to improve your current strength levels, there are smart strategies to get you there. In this article, we'll discuss them and provide some basic steps to follow. With a solid foundation in place, you'll be feeling stronger in no time.
Seek out a certified & trained professional
The best bet is to start working with a personal trainer who's trained clients with arthritis. That way you get to work with a professional who knows the appropriate training style and protocol to use.
Someone who knows to avoid exercises that put more stress on your joints. And instead provide exercises to improve your range of motion, flexibility, and of course, overall strength — all in a comfortable and safe way.
Then after several months of one-on-one training, you'll have the knowledge and skills to confidently work out on your own, or continue training with the professional, if that's what you prefer.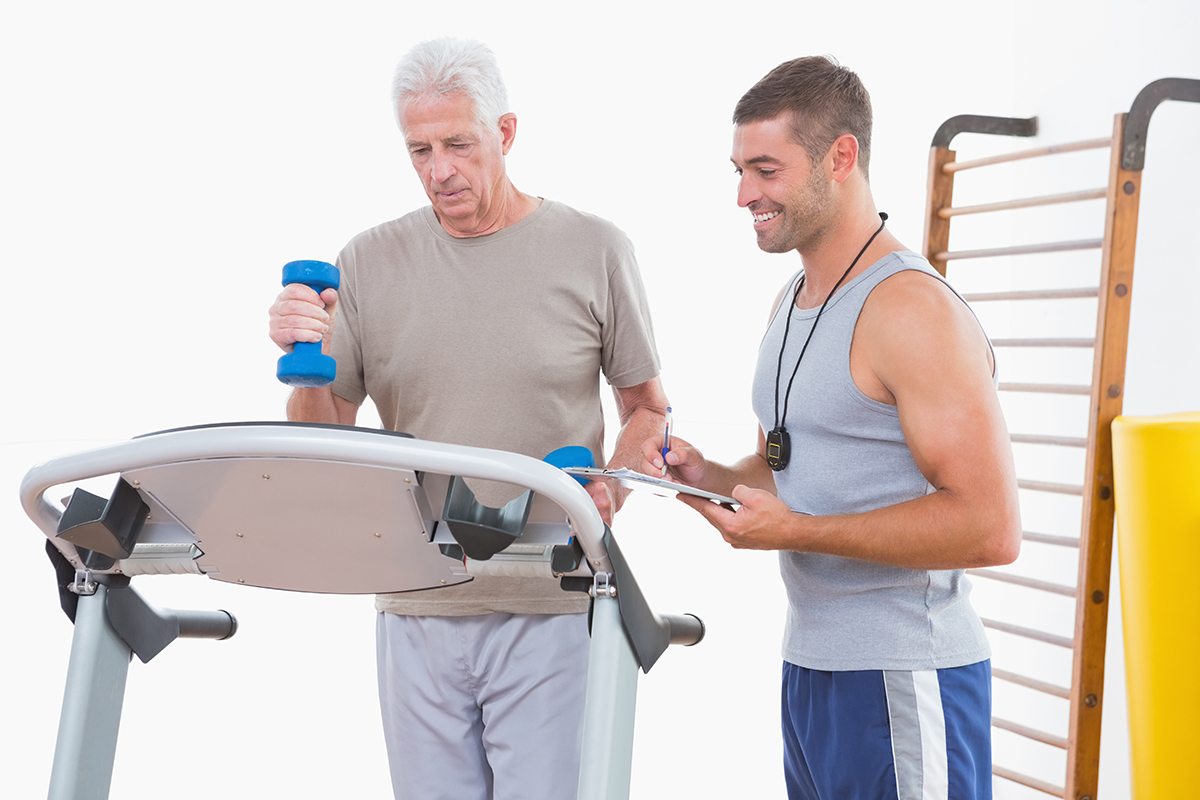 Choose an ideal workout time
Pick a time of the day where your pain level is at its lowest. Exercising while in pain, stiff, or feeling inflamed will make the exercise uncomfortable, and that's exactly what we don't want.
Warm-up before exercising
Always warm up your body before an exercise. With arthritis, it's better to have a longer warm-up time, so plan on setting aside 10 minutes or so. After this, your joints will feel lubricated and will make the exercises more enjoyable.
Choose the right equipment and weights
If you decide to workout at home, rather than with a personal trainer or physical therapist, then you'll need to purchase some dumbbells or resistance bands if you don't already have them.
Dumbbells and bands are more ideal than a barbell because they're easier and safer to use. Safer in the sense that you could have an imbalance in joint strength and that would make it more difficult to use a barbell. Whereas, with dumbbells or bands, you can work your left or right sides individually and gradually increase your strength over time.
Start out slow & use good form
If it's been many months or years since you exercised, then ease back into it gently and slowly. Pushing yourself too hard too soon will only overload and burden your muscles, which can increase joint pain.
This means starting with low weights as we just mentioned. It's better to do more repetitions than to start off using heavy weights and only doing a few reps. Also, try to do a little bit every day. Even if that means going for a walk, doing some light stretching, or a few bicep curls. Being active every day will help decrease arthritis-related pain.
Furthermore, when you do work with a professional trainer or physical therapist they'll teach you good form. And this is not only fundamental to effective exercise, but also for injury prevention.
Stay hydrated
Hydration keeps your body healthy, and it helps to lubricate the joints. As you know, this is essential for minimizing pain from arthritis. Plus, the more you exercise and sweat, the bigger the need for hydration becomes.
---
As the owner of Results Performance Training in Williamsburg, Virginia, Detric Smith helps people achieve their fitness goals through customized training and action-based coaching. Over the last two decades, Detric's made it his mission to study the habits, strategies, and techniques of personal trainers and coaches who are successful and, most importantly, happy. Also, during this time he's authored a book, mentored trainers through multiple organizations, and his own business. Finally, Detric's written for well-respected fitness websites, magazines, and journals. Find out more about Detric at: resultsperformancetraining.com and  www.detricsmith.com
References: