According to the American Joint Replacement Registry, there are 860,000 total knee and hip replacements done in the United States per year. This number is projected to double in the next ten years. There are more knees than hips done per year and more females have these joint replacements than males.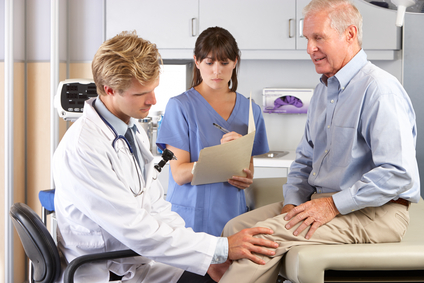 According to Mike Carberry of Advanced Medical Integration, "Regenerative medicine is one of the most talked about subject healthcare has ever known; and for good reason. It could hold the solution to the puzzle of America's failed healthcare system."
This is wonderful news for the personal training industry. Insurance is paying for less and less, costing more while the number of consumers seeking optimal health is increasing. A perfect storm in the making!
A personal training certificate, however, is not enough to appropriately deal with the typical client with total joint needs. Specialization in anatomy, joint physiology, biomechanics and therapeutic exercise are necessary in order to adequately and appropriately manage total joint conditions. These skills and techniques in conjunction with medical communication skills will give physicians confidence to send these patients to the appropriately skilled personal trainer. Spending time with a physical therapist and surgeon specializing in these areas will go a long way in establishing confidence, trust and credibility in handling the client with total joint conditions.
Most individuals with true joint pain have some level of osteoarthritis. Approximately 27 million Americans suffer from degenerative joint disease (also known as degenerative arthritis or osteoarthritis). Degenerative joint disease is the most common chronic condition of the joints and occurs most often in knees, hips, lower back and neck, small joints of the fingers, and the bases of the thumb and big toe.
Osteoarthritis is the most common form of arthritis that causes a breakdown of joint cartilage, and it affects mostly middle-aged and older adults.
Although there is no cure for osteoarthritis, the good news is that it can be helped, and quality of life maintained by implementing and maintaining some simple changes in daily life. Regardless of the intervention, from routine steroid injections to platelet rich plasma/stem cell treatments to total joint replacement, here are a few areas where the personal trainer can intervene with great success.
Exercise
Exercise is key component of arthritis care, exercise strengthens the muscles, lessens joint pain and stiffness and improves overall health. Types of recommended exercises may include strengthening, aerobic activity (aquatic activity is wonderful), range of motion or stretching activities and balance exercises.
Joint protection
Protect the joints to ease pain and avoid further damage. Make sure to balance rest with activity as well as know when to stop. A good rule of thumb is to adjust down the frequency, intensity and duration by 50% of what a "normal" client can do or what the client thinks they can do. Remember these clients are typically deconditioned relative to strength and cardiovascular fitness. They will not handle the all-too-popular high-intensity interval training (HIIT). This population will succumb to overload and may be injured.
Pain control
Pain control routinely treated with prescription or over-the-counter medications can be replaced or augmented by relaxation techniques (yoga, Tai Chi, meditation and massage) along with application of heat, cold and/or vibration.
Post-procedure care
If the client has had regenerative therapy or a total joint replacement, they will need a specific post-procedure plan to allow for healing/protection, early intervention and return to activity function. Hopefully, they had pre-intervention care inclusive of appropriate exercise, nutritional counseling and insight on what to expect with the procedure and post-procedure care. Appropriate nutrition for optimal health and healing along with hydration techniques and insights are a must during these sessions.
Phase 1: Post-procedure care
Typical post-procedure care is in three to four phases. Phase one is protect/rest, restore and control pain. During this phase the focus is on mediating pain, restoring range of motion, controlling swelling and protecting the joint. This is typically fourteen to twenty-one days in duration. Stitches or staples are usually removed at this time and scar management can commence around the twenty-first day.
Phase 2: Post-procedure care
Phase two is the restore and regenerate phase. The
wound is healing (healed), the joint and soft tissue healing continues, and remodeling of tissue has begun. This phase is typically three to six weeks in duration. Techniques to restore range of motion and other soft tissue techniques to facilitate healing according to tissue physiology and the client's general health are initiated (conditions such as diabetes, obesity, cardiovascular disease and others will alter the healing and remediation phases). Techniques for ambulation, gait and balance are initiated along with appropriate cardiovascular conditioning.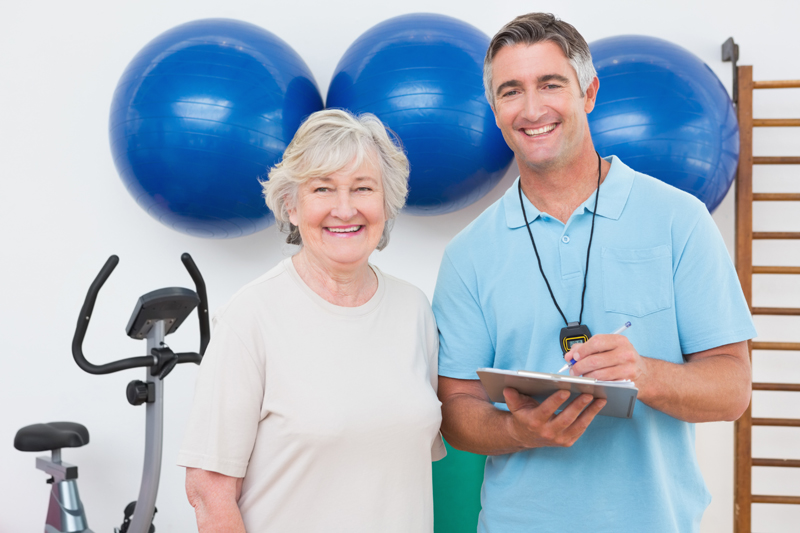 Phase 3: Post-procedure care
Phase three typically commences when the client has gained full range of motion, has good balance and gait mechanics and is able to tolerate closed-chain activities for both upper and lower extremity movement patterns. This phase is the final phase and progresses to full functional activity and return to sport or recreational activities of choice (these activities may be placed into a fourth phase). During this phase it is incumbent upon the personal trainer to load appropriately and have working knowledge of the mechanics of the sport or recreational activity. There are some tremendous resources available for this purpose.
Complications
Complications to be aware of when working with these patients include but are not limited to infection, blood loss, dislocation, blood clots and fatigue. The personal trainer should also be in contact with the client's physician and physical therapist if one has been engaged. These are medical conditions requiring communication and conservative care.
Most physicians like to know who is working with their patients and appreciate the communication for optimal outcomes. The insightful and knowledgeable personal trainer with the right training can be an invaluable member of the total joint care team. The future is bright!
This information is provided as an overview and in no way should be interpreted as a protocol for treatment or otherwise. Our goal is to inform the reader on opportunities in the profession and stimulate further investigation.
This article was featured in MedFit Professional Magazine fall 2019 issue.
Subscribe to MedFit Professional Magazine to read more great content like this!

---
Dr. Stephen A. Black is a sports medicine specialist, author and clinician. His doctoral degree is in sports medicine and he holds degrees in physical therapy, athletic training and certification through the National Strength and Conditioning Association. Dr. Black has over forty years' experience in patient care and practice management. He lectures frequently on topics in sports medicine, works with professional, Olympic and youth athletes and holds several academic appointments. Visit his website, rockymountainhpc.com