MedFit Education Foundation, Fitness Event Strategy Team, and Personal Fitness Professional Magazine Partner to launch a nationwide Medical Fitness Tour.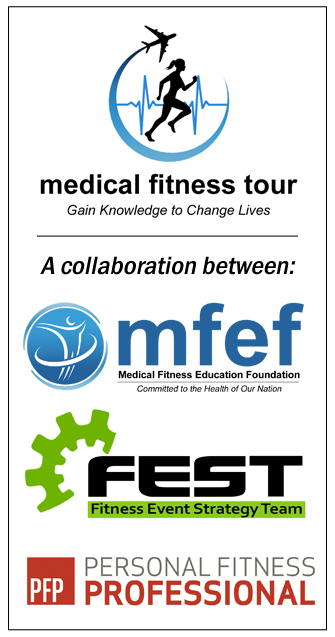 (Costa Mesa, CA) – (October 9 , 2017) The MedFit Education Foundation (MFEF) has partnered with the Fitness Event Strategy Team (FEST) and Personal Fitness Professional Magazine (PFP) to launch the Medical Fitness Tour in Phoenix, AZ February 2-4, 2018 at Ability360 .
The Tour will be a weekend event for fitness and allied health professionals with single track 60-90 minute presentations with a 1-2 pre-conference  workshops or training sessions.  We will also offer free 60-minute community education workshops on these same topics. Continuing education credits will be included and an expo for professionals and the community.
Speaking topics may include (but are not limited to): Active Aging, Alzheimer's, Arthritis, Autism, Cancer, Diabetes, Working with Persons with Disabilities, Fall Prevention, Fibromyalgia, Health & Wellness Coaching, Heart Disease, Joint Replacement, Mental Health Challenges, Multiple Sclerosis, Nutrition, Parkinson's, Osteoporosis, Respiratory Disease, Stroke, and Women's Health Issues (including pre- & post-partum care).
The Tour will bring top educators in the fitness and allied healthcare industry together to present on important, relevant, evidence-based topics. The Tour sessions will also be filmed and made available on Medical Fitness TV for those who cannot attend live. The second stop on the tour will be Glassboro, New Jersey at Rowan University on April 13- 15, 2018. Continued Tour dates and locations will be announced soon.
MFEF's vision is to make this type of education available in every state and continue to build the Medical Fitness Network (MFN) registry of qualified professionals in the area of prevention, treatment, and rehabilitation of chronic disease/medical conditions, those with disabilities or who need pre or postpartum care.
For more information about the Medical Fitness Tour, MedFit Education Foundation, or Medical Fitness Network, please contact med.fit.tour@gmail.com .
About MedFit Education Foundation (MFEF)
The MedFit Education Foundation (MFEF) is nonprofit 501(c)(3) organization that was founded to elevate the quality and amount of available education for fitness professionals to learn how to best work with our aging population or those with medical conditions/chronic disease or those with disabilities. The Foundation's primary goal is to facilitate professional webinars and live education workshops across the country.
About Fitness Event Strategy Team (FEST)
The Fitness Event Strategy Team (FEST) is a full-service consulting and event planning company with more than 50 events in the health and wellness industry under its belt. From strategy development to budgeting, speaker recruitment to marketing, accountability to LIVE event execution — FEST does everything from start to finish.
Contact: Gretchen Carter,  (480) 635-2309, med.fit.tour@gmail.com