The primary reason we move to a long-term care facility is not an illness but dependence on others due to physical weakness. Deconditioned seniors have the greatest potential to improve functional strength. With practice, you can develop muscles to recover from a fall. Fear only increases our risk.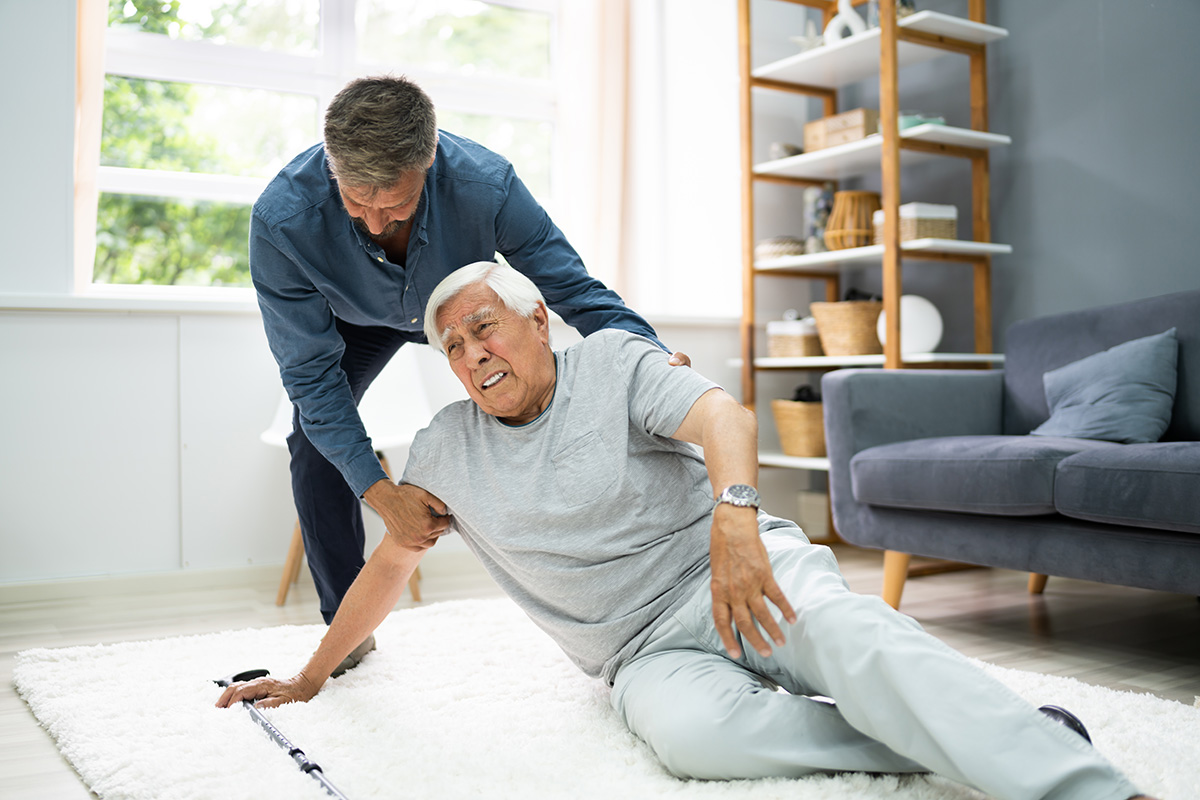 A Recovery
Imagine you fell. Take deep breaths. Do toes and fingers move? Where is the phone? If it's not close, you roll, drag, crab walk or crawl. Once near a chair or low table:
Roll onto your belly. Rest.

Raise onto forearms and knees. Rest.

Aim your buttocks toward the chair. Rest.

Press up to hands and feet. Rest.

Go backwards to the chair. 

Back your hips onto the chair. Rest.
The 10 Moves
Hopefully, you never fall, but practiced weekly, these exercises can improve strength and stamina for moving in bed, sitting up and life. Do these on your bed. Have a friend nearby. Start with one exercise 1-3 days a week for 1-3 weeks. Then add on. To gain more, try them under the weight of your covers. Listed in progression: 
Practice rolling

. Lie sideways across the bed; feet hanging off. Exhale away from the bed. The exhale stabilizes your low back and releases pressure on the heart. Face up, roll to each side. Rest. Repeat 10 times. Roll from face down to your sides. Rest. Repeat. Roll from the foot of the bed to head of the bed. Rest. Repeat 10 times. Avoid rolling from edge to edge on the bed. 

Lie on your side; place your upper hand on the bed. Exhale- push on your lower elbow and top hand to

lift shoulders and head

up. Rest. Repeat 10 times. Switch sides.

With no pillow, lie

on your back to lift your hips

. Exhale before and during the lift. Rest. Repeat, but stay up for a count of 5. Do not hold your breath! For low back issues, try it with one leg straight. Rest. Alternate. Repeat.

Lie

on your side

with a head pillow. Keep head, shoulders and knees down;

lift your hips

with an exhale. Rest. Repeat. Stay up for a count of 3. Switch sides. Try it up, on one elbow. Rise out of the shoulder. Press into your upper hand too.

Practice scooting

: Lie face up. Exhale- lift your hips, shift them to one side, lower hips. Then lift to return to center. Repeat, alternating sides. Try scooting twice to each side, adding your upper body to travel. Stay on the bed!

Crawl onto the bed

on all fours

. Engage your abdominals for support. Practice staying on forearms and knees. Rest. Repeat, adding a few seconds. Practice on hands if your wrists allow. Rest. Repeat.

Crawl onto your bed from the foot of the bed.

Crawl

to the headboard. Crawl backward. To practice crawling sideways, enter the bed from the side. No slippery bedspreads!

Drag your hips or

crab walk

on forearms or hands. Use deep breathing to move. Rest often. Use your glutes. Stay aware of your location on the bed.

Standing with back of legs touching a chair,

walk hands down the legs

and back up to standing. Sit to rest. Repeat. Stop if dizzy. From a fall, standing is not a goal, but prepares us for the next move.

When you feel ready to

walk on all fours

on the floor, stay near a couch or low table. Look behind to go backward. Sit to rest. Repeat. 
Please Note
Do whatever you can. Many of us feel dizzy or have joint limitations that affect performance. The biggest mistake is to quit, because of temporary discomfort or lack of confidence. With consistent practice, discomfort typically lessens.
Another way to recover from a fall involves kneeling to a lunge position next to a chair. This works for able-bodied seniors. Find what is best for you. Every week, practice your weakest steps until you gain confidence.
---
As an ACE-certified Medical Exercise Specialist with decades of experience training fragile to fit seniors, Emma Spanda Johnson designs adaptive exercise programs, for clients of all abilities. She is a nationally certified personal trainer with an Orthopedic Specialty. Emma offers virtual training sessions, visit her MedFit Network profile for details.
References and Resources
Fallproof! A Comprehensive Balance and Mobility Training Program 2nd Edition by Debra J. Rose Human Kinetics; 2nd edition (January 1, 2010) ISBN-13: 978-0736067478